Computer Desk
SHOWING
1 - 14
OF 14 PRODUCTS
SORT LIST BY
…in the Ford desk in either a left or right hand return. The new design features the same ball bearing drawer slides, dual locks, wide keyboard tray, letter and legal file drawers, wire management ports and European adjustable door hinges. Plus you will have a place for your computer tower, an extra…
…in the Ford desk in either a left or right hand return. The new design features the same ball bearing drawer slides, dual locks, wide keyboard tray, letter and legal file drawers, wire management ports and European adjustable door hinges. Plus you will have a place for your computer tower, an extra…
…in the Ford desk in either a left or right hand return. The new design features the same ball bearing drawer slides, dual locks, wide keyboard tray, letter and legal file drawers, wire management ports and European adjustable door hinges. Plus you will have a place for your computer tower, an extra…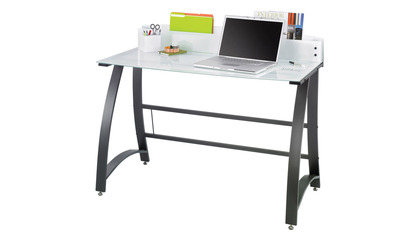 Create a stylish study area for your kid with this ergonomically designed Xpressions Computer Workstation. Studying just got more enjoyable thanks to this table's tempered glass work surface where you can easily jot down notes and erase them just as quickly. It comes with a storage area on top for…
…decor. The desk features a break front modesty panel with small chrome accents, an elite built-in leather desk blotter and sleek pencil drawer. It is the ultimate answer to versatility as it comes complete with large desktop area plus a rolling return with two drawers, open computer tower storage,…
…veneer. The desk features a break front modesty panel with small chrome accents, an elite built-in leather desk blotter and sleek pencil drawer. It is the ultimate answer to versatility as it comes complete with large desktop area plus a rolling return with two drawers, open computer tower storage,…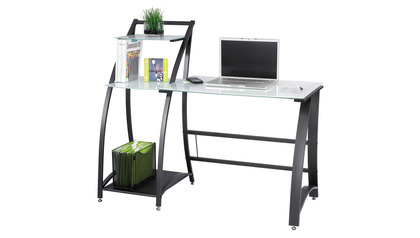 …Computer Workstation is guaranteed to impress with its one-of-its-kind ergonomic design. Jot down important notes on its sleek tempered glass desk and erase it easily when you're done. Its spacious work area has room for your laptop, monitor, books, and other office supplies. Place the computer case…
…executive desk. Features include a combination of mahogany stained American Oak wood veneer, black leather trim and desktop blotter, silver painted elements, chrome cable cutouts, and a pencil drawer. The mobile ambidextrous return includes a keyboard tray, 2 drawers of storage and computer tower…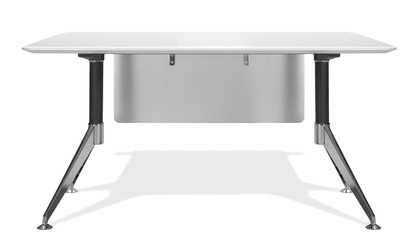 The Darin Desk is part of a geometrically scaled collection that makes a bold statement with strong horizontals, versatile shapes, and a sleek modern profile. Elegant detailing in the way components meet and materials blend gives this collection its refined appearance.
Increase your productivity when you get this versatile Alston Desk. Don't let its slim proportions fool you as it packs a punch when it comes to storage and modular options. It features a rugged Walnut melamine base with your choice of a white or black rectangular tabletop and seamless drawer with…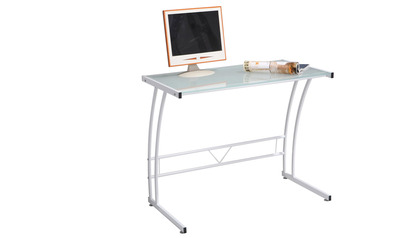 The Kilby Class Desk is sure to enhance any computer station décor! With a workstation constructed of tempered glass and a sturdy metal frame this beautiful piece is perfect for a home office or dorm.
…in the Ford desk in either a left or right hand return. The new design features the same ball bearing drawer slides, dual locks, wide keyboard tray, letter and legal file drawers, wire management ports and European adjustable door hinges. Plus you will have a place for your computer tower, an extra…
…in the Ford desk in either a left or right hand return. The new design features the same ball bearing drawer slides, dual locks, wide keyboard tray, letter and legal file drawers, wire management ports and European adjustable door hinges. Plus you will have a place for your computer tower, an extra…
Productivity is made simple with our stylish Lincoln executive desk. This sleek and modern set is exquisitely crafted with a smooth dark walnut veneer finish. Features include a combination of black leather desktop writing pad, silver painted elements, chrome cable cutouts, and a pencil drawer. The…