Crackle
SHOWING
1 - 12
OF 12 PRODUCTS
SORT LIST BY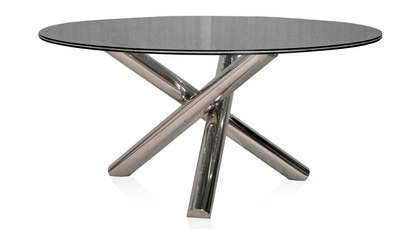 You are sure to be impressed with this Crackled Dining Table Top. This large and wide round-shaped top features a cracked finish, perfect for those who want a distinct style. Perfect for stainless steel legs and can be easily cleaned with a soft moist cloth to prevent scratches.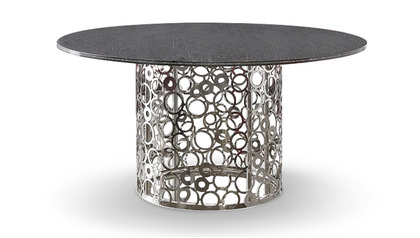 …together in a round drum-shaped base. Made of sleek stainless steel, you and your guests will marvel at the beauty and elegance of this base that doubles as a work of art. The 60" smoke crackled glass top is sleek and easily accommodates up to 6 guests, so you can gather everyone around more often!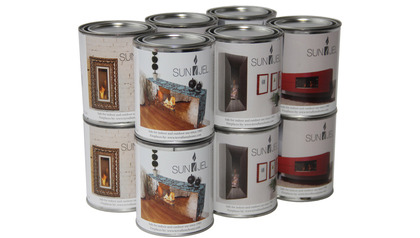 …Sun Jel gives you the cozy comfort of a warm, crackling fire without the smoke and soot of a traditional wood-burning fireplace. Each can burns for approximately 3 hours with a beautiful 7 inch vibrant yellow flame and has a wonderful crackling sound. Sun Jel burns for approximately 3 hours…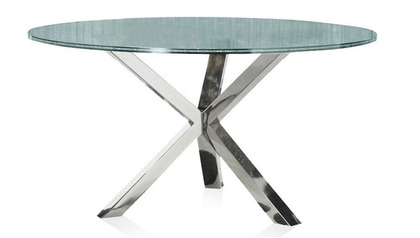 The Cointet Dining Table is an essential for the modern home with its classic stainless steel construction. The 60" size is available in either a smoked crackle or clear crackled glass top. The larger size allows it to seat up to six guests easily.
Make a distinct impression with this Crackled Round End Table Top. This lavish replacement piece has a striking crackled finish and made with durable tempered glass with smooth, scratch-resistant surface. Can be easily cleaned with a soft damp cloth.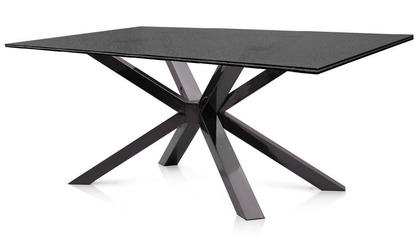 The Cointet Dining Table is an essential for the modern home. It is available in a variety of sizes and glass tops but the black smoked crackle glass on black tinted stainless steel base is an especially impressive standout. Pair it with a black buffet and chairs or add a pop of color for contrast!…
…lends character to any dining or kitchen area. Have unlimited storage space with its' sleek white gloss base and your choice of clear or smoke crackled glass top for easy clean-up. A perfect blend of storage, serving station and style. Looks great with a pair of lamps, art or mirror above it and…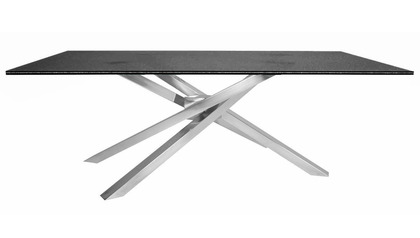 The Garrison Dining Table is made for the modern home with its angled legs in stainless steel. Your choice of greenish clear or smoked grey crackled glass, either way this table steals the spotlight and perfectly complements any house design. The over-sized top ensures that everyone will have plenty…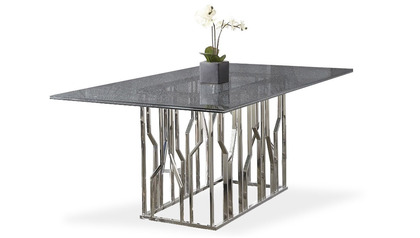 The brilliance of the Mayall Dining Table Base never fails to impress. This base is made of durable stainless steel polished to a high gloss that's perfect for frosted or clear glass table tops. The table top and feature multiple slim rails bent to give it that off-kilter and artistic vibe.
Add glamour to your space with one or two Airell Table lamps! Fashioned of high quality material, the Airell's unique glass base in teal or silver with crackled crazing effect is paired with a white or silver linen drum shade that are sure to bring a touch of cool elegance to any space.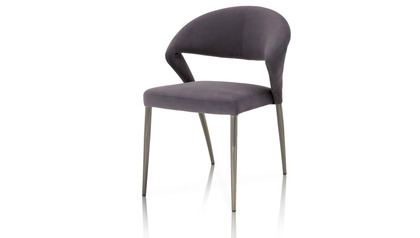 …(Set of 2) is a study in beauty and functionality. This modern chair features a padded back and seat that are upholstered with velvet-like fabric that exudes style and elegance. It has rounded and open back, and set on a durable frame with steel base. Perfect with a crackled marble dining table.
So cool. This modern black and white vase with its icy, crackled surface is stunning in any room. Place it on a vanity, bookcase or accent table for a comtemporary vibe. Display it on its own, or with its companion pieces.