Fire
SHOWING
1 - 11
OF 11 PRODUCTS
SORT LIST BY
…looking for with its distinctive shape, high gloss white finish and its real flames. Easy to move to anywhere you want to enjoy the ambiance of a real fire but without the hassle of smoke, melting wax, soot, ash, smell etc. Use it on the dinner table or a coffee table. The possibilities are endless…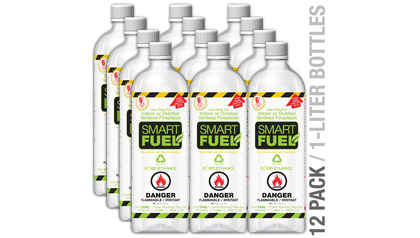 The fuels offered are created specifically for bio-ethanol ventless fireplaces. It is a fuel specially formulated to provide the cleanest and safest fire possible. SMARTFUEL™ features an exclusive patent-pending Safety Pour™ technology. First in the industry to provide the safest possible flash-free…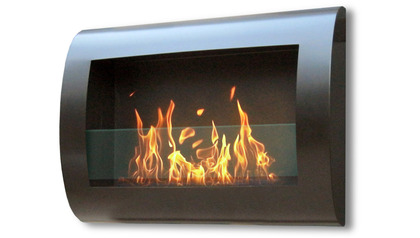 …atmosphere. It will create a focal point of distinction in your living room, bedroom, family room, dining room… anywhere you wish to enjoy a fire. Easy to install on the wall and all mounting hardware is included. NEVER SUBSTITUTE ANY OTHER FUEL IN PLACE OF LIQUID FUEL FOR VENTLESS FIREPLACES.…
…in place of wood, mobility in place of a fixed location– the circular design gel fire pits from Blomus are that convenient. A real trend in outdoor living, leaving no residue and providing great visual enjoyment. The fire reveals its magnificent spectacle only in combination with the stainless steel…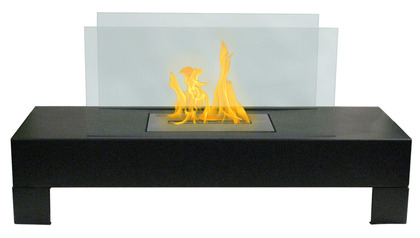 …on the floor on a table and add the ambiance of fire to any location. No installation necessary. The Gramercy is totally free standing and lightweight so you can move it from one location to another-anywhere you want to enjoy the warm glow of fire. NEVER SUBSTITUTE ANY OTHER FUEL IN PLACE OF LIQUID…
…living room, foyer, or bedroom. The seat is added and upholstered in wear-resistant and supple leatherette which adds elegance to any room. It is set on a polished stainless steel frame and base that are meant to last. The fire rated leatherette and foam also make it ideal for commericial settings.
…Anywhere Fireplace™ Sutton a favorite for the ambiance of a small fire indoors or outdoors. It can be placed on a table as a center piece or along a walkway ,patio or poolside to provide the interesting and distinctive glow of the real fire. Liven your living space with this portable fireplace. This…
…SoHo model of the Anywhere Fireplace™ is a stunning addition to any room. It works with any décor. The warm glow created by the dancing flames of the fire will create atmosphere anywhere you wish to hang it – living room, bedroom, family room, dining room, anywhere…. Very easy to install on any wall…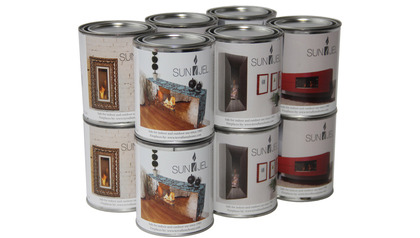 …the cleanest burning fuel on the market you can enjoy the comfort of a fire indoors or outdoors. All Sun Jel products are easy to light and require no ventilation. Sun Jel gives you the cozy comfort of a warm, crackling fire without the smoke and soot of a traditional wood-burning fireplace. Each…
…leather while the camel brown accents on the base are genuine leather. Stationary or swivel, the Armondo set has everything you need. The set looks exquisite paired with warm walnut casegoods that will play up the color scheme. Add a little fire and ice to your living room with the Armondo sofa set.
The fuels offered are created specifically for bio-ethanol ventless fireplaces. It is a fuel specially formulated to provide the cleanest and safest fire possible. SMARTFUEL™ features an exclusive patent-pending Safety Pour™ technology. First in the industry to provide the safest possible flash-free…