51 Table
SHOWING
1 - 12
OF 12 PRODUCTS
SORT LIST BY
The Deta Coffee Table is simply perfect in execution. The thick clear tempered glass top is supported by an equally thick stainless steel base that forms a rhombus shaped opening below. The base features a thin strip down the middle similar to a racing stripe, which is probably why it looks so…
Relish the amount of space the Calliope 51-inch Dining Table provides whenever you have dinner with the whole family. The large square tabletop is decorated with recessed grids on its surface. It has a single pedestal base that allow ample space for your legs as you enjoy a meal. The Calliope…
…Sirah Coffee table is smartly dressed in a black marble top with white veining and a polished stainless steel base. The simple elegance of this rectangular coffee table will surely add a touch of style to your modern home. Pair with the Sirah End Table to complete the look. Table top is made from…
…Coffee table offers not only style and sophistication, but function as well. This elegant coffee table features a brushed stainless steel base with a smooth, rectangular white and gray marble top. This sleek table will blend harmoniously in any modern space. Pair with the Port End Table to complete…
…sealed to minimize staining, this Malbec coffee table is a perfect choice for your home or office. Tabletop is made from naturally harvested marble and may show slight variations in color. Pair with the Malbec end table, console table or dining table! This product is suitable for indoor use only.
…Coffee Table is an essential for any modern home. The unique design features a visually arresting base that made of four beams of polished stainless steel that seem to magically intertwine to support a large rectangle of clear tempered glass. Pair it with the matching end or console tables to…
As stunning as it is efficient for every day use, the Etta Coffee Table features a solid design including a tempered glass top, a built in drawer and ample open storage. The Etta is constructed with black stained oak wood grain veneer and brushed aluminum accent on the base, resulting in a…
Amazing swaths of black and white combine with subtle undertones of cocoa and cream in our exclusive sealed genuine marble Nero Coffee Table. The stunning tabletop is accented with a polished and brushed stainless steel finish base and supported by chrome uprights. Elegant and upscale, this piece is…
The Serra Coffee Table lives up to its' name which is an homage to the famous minimalist sculptor whose imposing steel structures seem to defy both gravity and logic. This deceptively simple table features a polished stainless steel base of two open triangles that balance together to support a wide…
Crafted for style, the Aiden modern dining table offers a clear fusion of contemporary beauty and sharp geometric shapes. Aiden features striking structural details with its square tempered glass table top a statement-making brushed steel base. Seats 4-8 guests.
Experience the natural beauty of genuine marble with our new Malbec Marble Round Dining Table. The sophistication, and refined design of the marble paired with a polished stainless steel base, is sure to awe everyone. This slate grey and black marble is naturally durable, long-lasting, and easy to…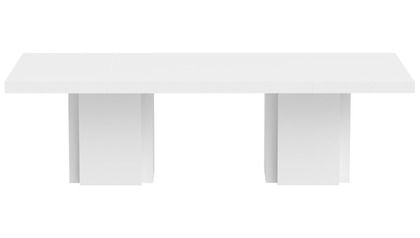 …lacquer or a chocolate stained oak veneer. Plus we offer matching buffets for every finish! They are also modular and available individually or in groups of 2 or 3 to create a larger table fit for every occasion. The larger sizes also make for a perfect contemporary conference table for the office.