8 Seat Dining Table
SHOWING
1 - 14
OF 14 PRODUCTS
SORT LIST BY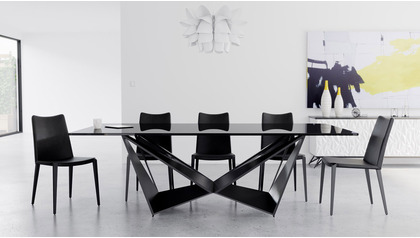 The Serra 94 Inch Dining Table Set lives up to its' name which is an homage to the famous minimalist sculptor whose imposing steel structures seem to defy both gravity and logic. This deceptively simple table features a powder-coated matte black steel base of four open triangles that balance…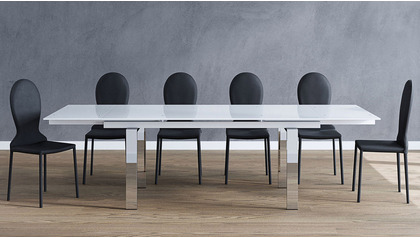 …operate it. The Montez Dining Table creates a unique and stunning focal point in your dining room. The rectangular glass table sits on top of four polished stainless steel legs. The Montez is clean, refined, and ready to seat up to ten guests at your next dinner party. This dining set includes your…
…plenty of elbow room and seats up to 8 guests comfortably. The matching console table works great as a last-minute buffet for family gatherings. This carefully balanced design steals the spotlight while seamlessly blending into any dining room. The Cortez Dining Table is sure to conquer any boring…
…leaving a rhombus-shaped opening between the two. The Vilma will seat up to 8 guests comfortably and looks great paired with the clean lines of the Jordan Dining Chair and a simple buffet. Sleek and angular, the Vilma 82-inch Dining Table is one dining room centerpiece well worth the investment.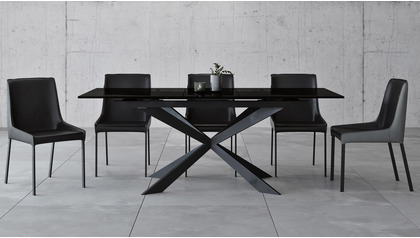 …base made of matte black powder coated steel. The Burton will seat 8 guests comfortably with the extended length of 79 inches. Looks great paired with the Burton Console Table as a simple buffet. So gather your ghouls for a ghastly good time with our Burton Dining Table. It's a design to die for!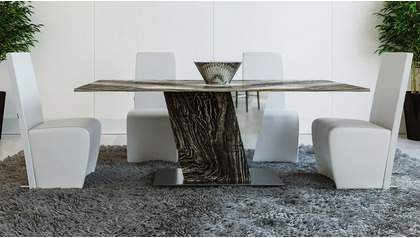 …base partners with a black and white marble tabletop, to bring you the Malbec Dining Table. This sleek, rectangular table is not only beautiful to look at but functional as well, with seating for up to 8 guests. The table top is made from naturally harvested marble and may show slight variations in…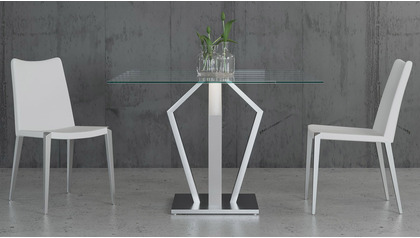 Crafted for style, the Aiden modern dining table offers a clear fusion of contemporary beauty and sharp geometric shapes. Aiden features striking structural details with its square tempered glass table top a statement-making brushed steel base. Seats 4-8 guests.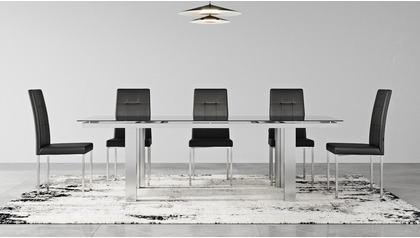 A classic and minimalistic piece of art, the Enzo contemporary dining table is the one you've been waiting for and a superb choice for any modern dining space. The Enzo will seat 8-10 guests comfortably with its generous 95-inch total length (includes 16-inch twin-leaf extensions). Polished…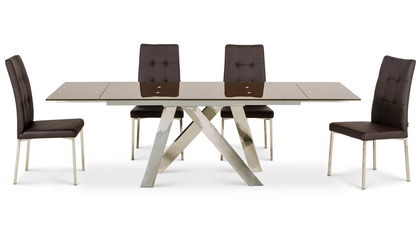 …and a rich chocolate tempered glass table top. This stylistically dazzling art piece enhances any dining space with its use of rich color and high quality materials. With both leaves extended, the table totals 94 inches in length which is perfect for seating an impressive ten guests! To complete…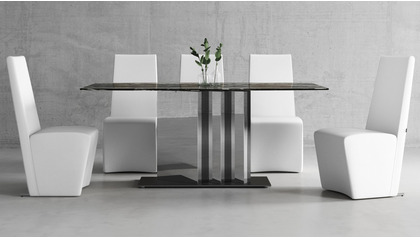 …Table top is made from naturally harvested marble and may show slight variations in color. This dining set includes your choice of six of eight of our contemporary Boston dining chairs. The Boston Dining Chair creates a statement of sophistication to match the marble table. Its' formal vertical seat…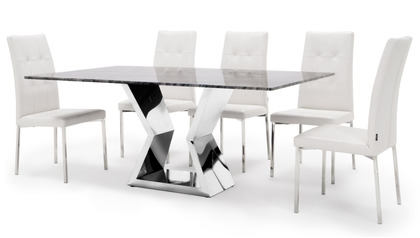 The contemporary Grigio Dining Table adds a unique style to any modern dining space with its lustrous polished stainless steel hourglass base and classic marble table top. The thick grey and white striped marble top is coated with an epoxy sealant that prevents staining and makes for easy cleaning.…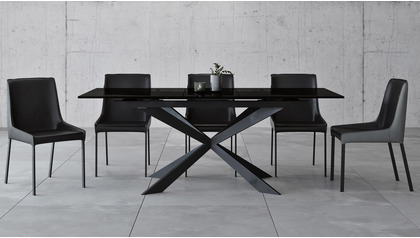 …ensures seating comfort and ample back support. The black powder-coated legs offer support and sophistication that matches the base of the Burton. This set looks great paired with the Burton Console Table as a simple buffet. So gather your ghouls for a ghastly good time with our Burton Dining Table…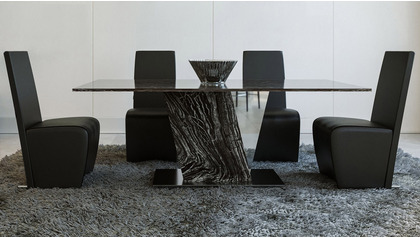 …breeze. This sleek, rectangular table is not only beautiful to look at, but functional as well, with seating for up to eight guests. We have paired it with our best selling Boston Dining Chairs. The Boston creates a statement of sophistication to match the marble table. Its' formal vertical seatback…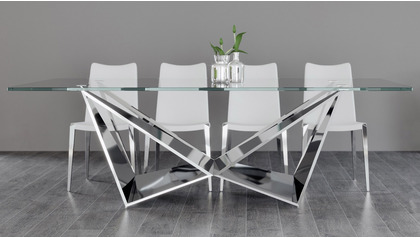 The Serra 94 Inch Dining Table Set lives up to its' name which is an homage to the famous minimalist sculptor whose imposing steel structures seem to defy both gravity and logic. This deceptively simple table features a polished stainless steel base of four open triangles that balance together to…