Bedroom End Tables
SHOWING
1 - 14
OF 14 PRODUCTS
SORT LIST BY
The stunning Etta Side Table features a solid design mixing black oak wood veneer, tempered glass accent on top and a brushed aluminum base. The Etta is a sophisticated marriage of simplicity and functionality. Matching coffee table, console table and TV stand also available.
A fabulous, one of a kind, offset design highlights our Tada Side Table. This unique mirrored glass accent chest features 2 spacious drawers, with faceted black faux crystal hardware to complete the signature look. Order one today and watch the magic happen, Tada! The frame ships fully assembled,…
The Vetro Side Table is perfect for completing a minimalistic space with the soft rounded sides and modern design. The soft closing drawer with stainless-steel hardware and matching base allows for hidden storage while the top is perfect for a lamp and book. Featuring white leatherette, complete the…
This modern nightstand is an exciting addition to the Marquis line and a lavish piece for your bedroom. It has a smooth woodgrain finish for a contemporary appeal made functional by the spacious drawers and chrome pulls. Store your tablet and phone inside this timeless piece of furniture. Compact…
…ready to uphold any design challenge you might face. Whether you need a modest bench for the end of your bed, a place to put on shoes before leaving the house, or even as extra seating at the dinner table, the Antonin will always do your space justice. Suggested weight capacity for up to two persons…

The Abesti Accent Table proves that contemporary furnishings can be both clean and cutting-edge. Crafted from white high gloss lacquer with chrome angled legs, this end table features a raised molded geometric pattern on its' two drawer fronts. You can easily store your essentials in the two…
The Onyx Side Table will bring any room alive with its disco flare. The two drawers are accented with round mirrors encompassing a retro style. Having a painted black background adds depth which creates a different view from every angle. Complete your look with the Onyx Accent Chest.
The sophisticated and modern Malibu Mirrored Side Table features a clear mirrored body and contrasting smoked black mirrored drawer fronts with crystal drawer pulls. Designed to be a true statement-maker, this table is also functional with two spacious drawers. Complete the set with the Malibu…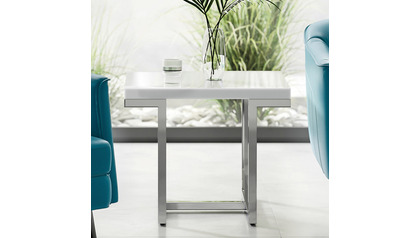 …table top contribute to its quintessentially modern feel. It features a thick, glossy lacquered top in black or white with a polished stainless steel base. Use the Straz End table as an accent table piece in your living room or bedroom by itself or pair it with the matching coffee table for a truly…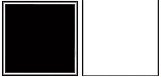 The Vortice Accent Table proves that contemporary furnishings can be both sleek and cutting-edge. Crafted from a mix of black and white high gloss lacquer with matte black angled steel legs, this end table features a raised molded geometric pattern on its' two drawer fronts. You can easily store all…
…details give this side table a sophisticated Hollywood regency look while providing a mirrored drawer for hidden storage space. Azure's reflective surface is ideal for complementing that special contemporary area rug and sectional. Pair with the matching coffee table or console in this collection…
…Kube Side Table captures every designer's desire for simplicity and versatility. We intentionally crafted this amazing piece in classic mirror to reflect the color palette of your space. With an interior glass shelf for hidden storage, we know you'll fall in love with this side table again and…
The Mosina modern nightstand is the perfect addition to your bedroom. It has a smooth woodgrain finish for a contemporary appeal made functional by the spacious drawers and chrome pulls. Store your tablet and phone inside this timeless piece of furniture. Compact and stylish, making it great for…
The Harte Nighstands Acacia Veneer finish is sandblasted to create a subtle rustic appearance while maintaining its modern luxe appeal. This process accentuates the natural grain of the wood and creates a variation in both color and texture. The existence of natural knots, cracks, scratches, and…