Black And White Paintings
SHOWING
1 - 14
OF 14 PRODUCTS
SORT LIST BY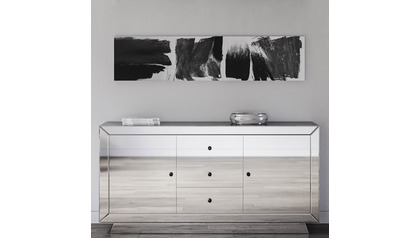 You can fill every inch of wall space with the Glazed Transparency Canvas Art piece. The black and white palette and long skinny proportions are perfect for adding some interest to that small blank section in your home or office. It's also a great companion piece with our Broken Negative Canvas Art.…
…and delicate strokes of black make up a large portion of the surface with a calming white background. This daring wall art will elevate any space to a higher plane (of chic). Each painting is hand painted on 420g heavy weight cotton canvas with high quality acrylic paint. The canvas is evenly…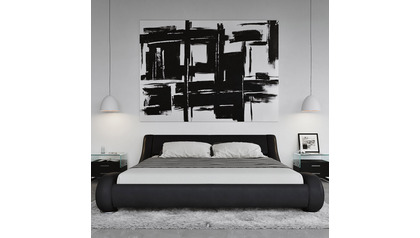 The broad strokes of black across a white canvas provides a gallery quality art. Each piece is hand painted canvas wall décor is hand crafted by a single talented artist from start to finish. Each canvas is replicated, down to the brushstroke, by an individual craftsman to provide unmatched quality…
Stunning elegance and a floating desktop defines the elite 79-inch Ford Desk. The finish is a sleek matte white lacquer. This is accented with silver painted wood feet and risers plus a black panel on top with ports for wire management. It features four drawers with ball bearing slides for ample and…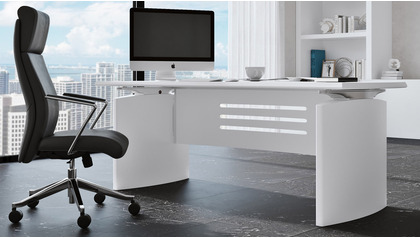 …panel with cut out details and silver painted accents. The matte white lacquer speaks sophistication and unassuming elegance. The desk includes two chrome wire management ports for routing all of your essential wires as well as two additional matte black ones if you prefer it more simple. Finish…
…panel with cut out details and silver painted accents. The black stained American oak wood veneer evokes sophistication and power. The desk includes two chrome wire management ports for routing all of your essential wires as well as two additional matte black ones if you prefer it more simple. The…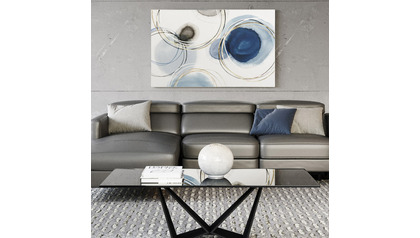 …blues are surrounded with delicate rings of black, gold and white. Let this painting ease any mental blocks with its' meditative color palette and design. Each piece is hand painted on 420g heavy weight cotton canvas with high quality acrylic paints. The canvas is evenly stretched over a solid…
…strokes in black and white are anything but monotonous in the Broken Negative Canvas Art. Like an explosive piece of silver nitrate film it bursts with energy that will add nuance to any modern space. Each piece is hand painted on 420g heavy weight cotton canvas with high quality acrylic paints. The…
…features a combination of stark white and muted gray background with a unique black chain illustration that runs from edge to edge. A must-have for modern offices and homes. Each piece is hand painted on 420g heavy weight cotton canvas with high quality acrylic paints. The canvas is evenly stretched…
…office or home. Layers of grey and taupe are enclosed with abstract borders of black and white to create a nuanced sense of depth. Each piece is hand painted on 420g heavy weight cotton canvas with high quality acrylic paints. The canvas is evenly stretched over a solid Monterey pine wood frame and…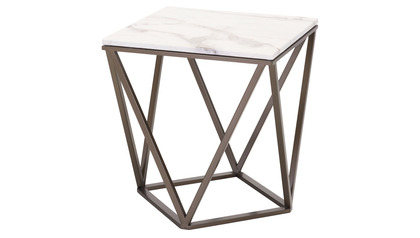 …the sheer beauty of the Klee End Table. It maybe a small portion of your living room but its beauty and utility are endless. The tabletop is made with sleek white faux marble and set on a crisscrossing geometric base made of painted metal. Place it beside a beige or black leather sectional or sofa.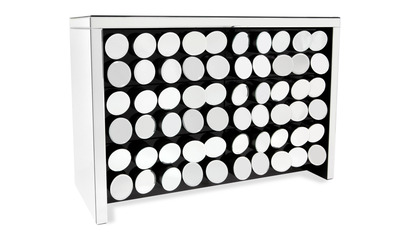 The Onyx Accent Chest will bring a room alive with its disco flare. The six soft close drawers are accented with round mirrors encompassing a retro style. Having a painted black background adds depth which creates a different view from every angle. Complete your look with the Onyx Accent Table.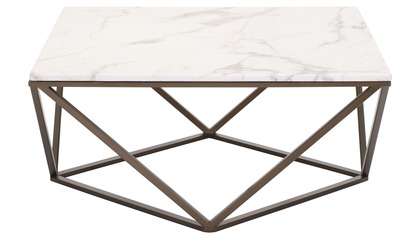 The Klee Coffee Table is an achievement in design and doubles as work of art that will definitely impress you and your guests. The tabletop is made of sleek square faux marble and it is set on a geometric painted metal base. Place it in front of a chic tufted couch or a luxurious black leather sofa.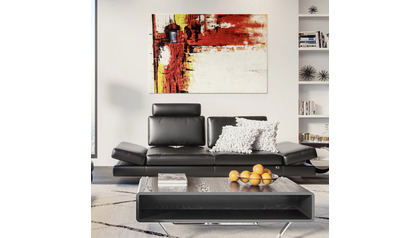 …of black on a clean white background reminiscent of a flaming sunset at an abandoned carnival or factory wharf. Add a bold pop of color to a living room or office lobby with this chic wall art. Each painting is hand painted on 420g heavy weight cotton canvas with high quality acrylic paints. The…