Blue Accent Chair
SHOWING
1 - 13
OF 13 PRODUCTS
SORT LIST BY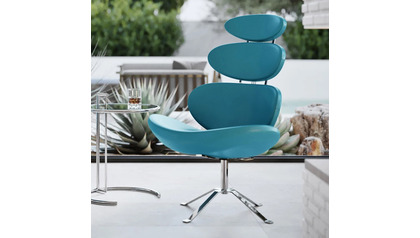 The Pebble faux leather chair was designed for people who love to be different. The funky modular design composed of four well padded cushions, held together by a metal spine, with curved seat and tall backrest, gives you the excellent support you need. Standing on chrome legs, the Pebble is bound…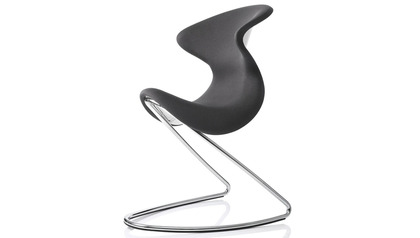 The Oyo Chair beckons and invites you to relax on its gently curving seat. Be cradled on its plush upholstered seat molded to hug your back and supported by an angled steel tubing with sleek chrome finish. Ergonomic, innovative, and one-of-its-kind, the Oyo Chair will surely make an office or any…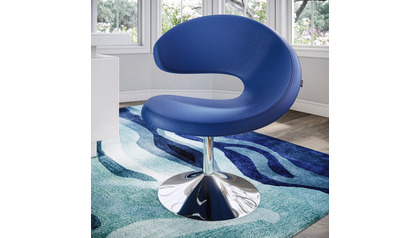 The Shell chair not only adjusts in height but swivels for added convenience! Available in Black, Bright Blue, or White faux-leather with a chrome swivel base. Perfect for that spot in your home or office that needs some pizzazz! Weight capacity is 275 lbs.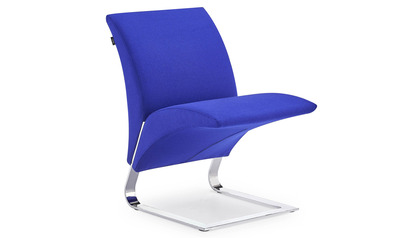 With smooth curves and an origami-like structure, the Bouncee Chair is bound to turn heads. It is an effective mix of well padded cushions, a variety of soft cashmere-like fabric choices, and a lumbar supporting curved backrest. This sparse yet ingenious design features a base of thick chromed steel…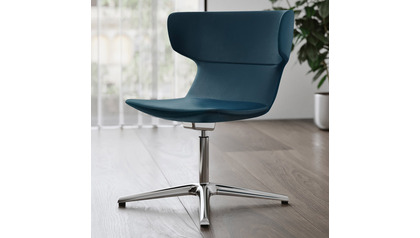 The Covey Guest Chair will make any space it occupies the go to meeting spot. With thick genuine top grain leather and medium density foam, discomfort will not be a topic on the agenda. This chair is the perfect accent in a home or corporate office that will draw attention to your outstanding taste.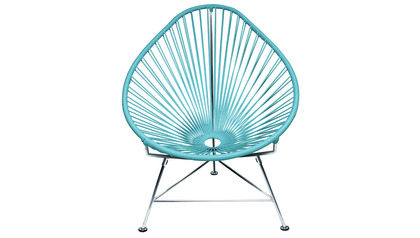 The Acapulco Chair is a contemporary lounge or occasional chair suitable for indoor use. Composed of a tripod metal base and seat woven with vinyl cord. The Acapulco chair is similar in construction and form to our Innit chair though slightly more reclined with a pear shaped frame. The galvanized…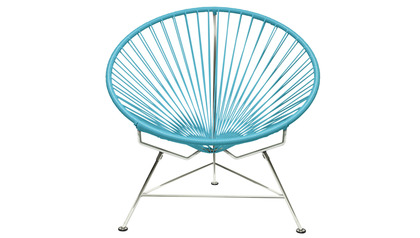 The Innit Chair is a contemporary lounge or occasional chair suitable for indoors. Composed of a tripod metal base and seat woven with vinyl cord. The Innit Chair is similar in construction and form to our Acapulco Chair though slightly less reclined with a circular frame. The galvanized steel frame…

The Concha Chair is a contemporary dining or café chair, also cool as a guest chair in your living room or office and suitable for indoors. Composed of a metal base and seat hand-woven with solid vinyl cord. Available with white, chrome, copper or standard black frame. The galvanized steel is rust…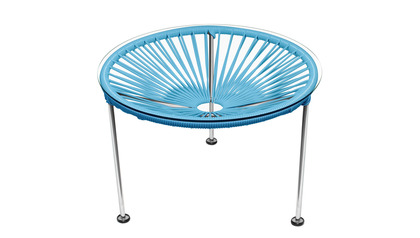 …table suitable for indoors. Composed of a tripod metal base and table-top woven with vinyl cord. Coordinates well with our many vinyl cord chairs. The galvanized steel is rust resistant and the very durable yet flexible, UV protected vinyl will stay colorfast for years. This table is weatherproof,…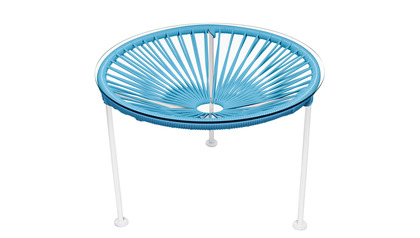 …suitable for indoors and out. Composed of a tripod metal base and table-top woven with vinyl cord. Coordinates well with our many vinyl cord chairs. The galvanized steel is rust resistant and the very durable yet flexible, UV protected vinyl will stay colorfast for years. This table is weatherproof,…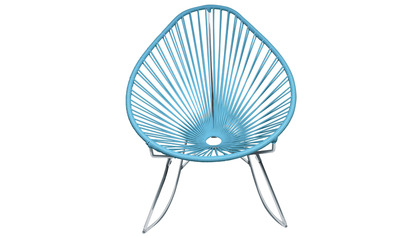 The Acapulco Rocker is a contemporary rocking chair suitable for indoors. Composed of a metal base and seat woven with vinyl cord. The Acapulco Rocker is similar in construction and form to our Innit Rocker though avocado shape rather than the hoop shape of the Innit Rocker. The galvanized steel…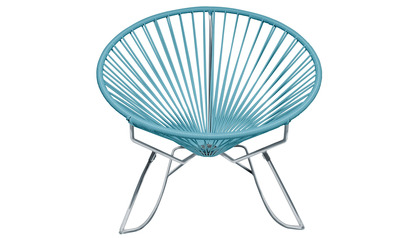 The Innit Rocker is a contemporary rocking chair suitable for indoors. Composed of a metal base and seat woven with vinyl cord. The Innit Rocker is similar in construction and form to our Acapulco Rocker though hoop shaped rather than the avocado shape of the Acapulco Rocker. The galvanized steel…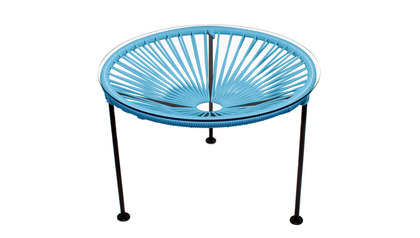 …suitable for indoors and out. Composed of a tripod metal base and table-top woven with vinyl cord. Coordinates well with our many vinyl cord chairs. The galvanized steel is rust resistant and the very durable yet flexible, UV protected vinyl will stay colorfast for years. This table is weatherproof,…