Book Case
SHOWING
1 - 12
OF 12 PRODUCTS
SORT LIST BY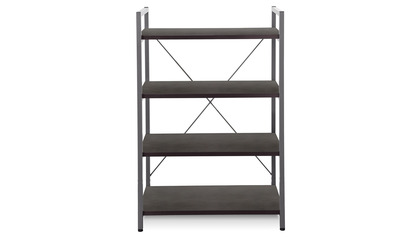 The Daly Metal Frame Bookcase features four spacious shelves to store all you personal and professional items. The non-scratch surface and durable design are not only stylish but functionable.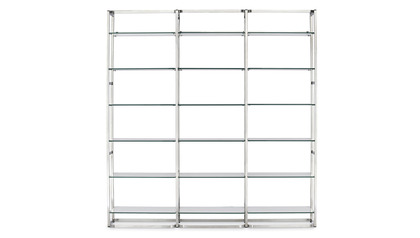 A transparent design that still stands out describes the Forum Shelving Unit. It offers ample and well-divided storage for your extensive book or record collections. Alternately, you can use this shelf to hold and showcase your art and precious collectibles. It is constructed from sturdy polished…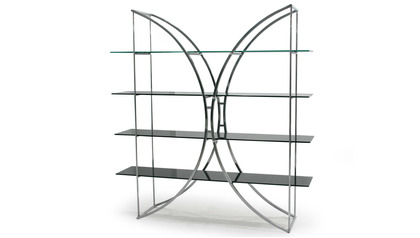 Elegant and beautiful, this steel and glass butterfly shelf will add the perfect amount of class to any space.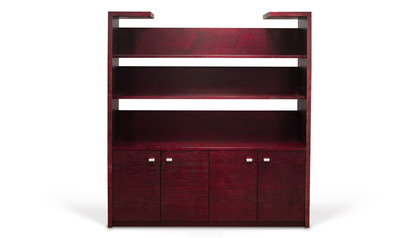 You'll be the envy of the office with this statement piece. Madison offers you storage space as well as adequate shelving for your decorations and achievements, so go ahead and show off a little. The finish is a rich dark mahogany stained American walnut wood veneer. Open cut outs above the shelves…
You'll be the envy of the office with this statement piece. Madison offers you storage space as well as adequate space for your decorations and achievements so go ahead and show off a little. Open cut outs above the shelves ensure that this piece blends seamlessly into you walls. With its' black…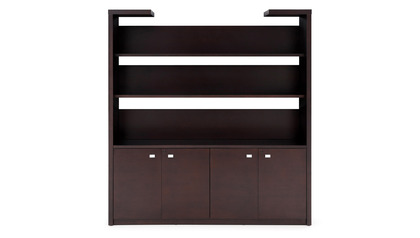 You'll be the envy of the office with this statement piece. The Madison offers you storage space as well as adequate space for your decorations and achievements so go ahead and show off a little. The finish is a rich dark stained American walnut wood veneer. Open cut outs above the shelves ensure…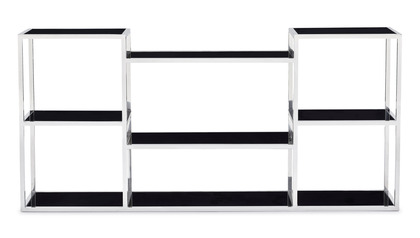 …contrasting black opaque tempered glass surfaces. With its three-tiered display, you have plenty of room to organize your devices as well as display books and curios. Great for any modern or industrial space, the Maldives Media Shelf guarantees functional minimalism on any day. Pair it with the…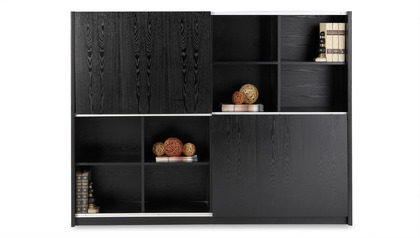 …design of the Jackson bookshelf displays what you want to be seen and conceals your less appealing gadgets and paperwork. Showoff your leather-bound books or store away the ugly paperweight your boss gave you. The easy sliding cabinet doors can be your best ally in maintaining an orderly office. The…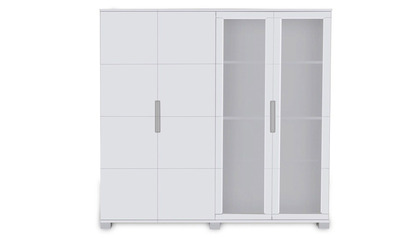 …with clear glass doors framed in wood. Inside there are three height adjustable shelves on either side. The dual sides are great for displaying books and keepsakes on one side while hiding extra paperwork or supplies behind the other. The finish is a smooth matte white lacquer with silver painted…
…this bookshelf channels minimalism and a multi-dimensional appeal that can be placed against a wall or used to divide your space. Display your books, magazines, and curios on its' multi-layered shelves and view them easily from any angle. The smaller footprint allows you to fit it into any space…
Spare but multifaceted, the Briton Bookshelf is a modern, functional marvel that can easily hold your all books and collectibles for display. The entire shelf is crafted from brushed stainless steel and tempered black opaque glass, which has sleek, monochromatic appeal. Exposed frames jutting at…
…of the Jackson bookshelf displays what you want to be seen and conceals your less appealing gadgets and paperwork. Showoff your faux leather bound books or store away the ugly paper weight your boss gave you. The easy sliding cabinet doors can be your best ally in maintaining an orderly office. The…