Brown Bed
SHOWING
1 - 14
OF 14 PRODUCTS
SORT LIST BY
…this Grian Bed. It features wide double headboards with a slim gap between the two and low pine platform that accommodates a king size foam/latex mattress. It is supported with multiple copper legs angled for added stability. The clean lines and overall modern design of this bed makes it ideal…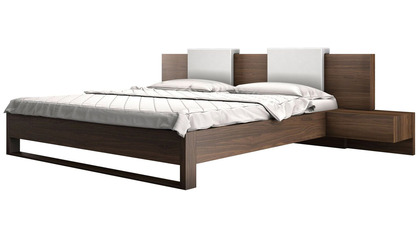 …Viserys Bed is perfect for creating a look of Zen in your bedroom retreat. Both sleek and cool, the Viserys features an extended wood-finished headboard overlapping two "floating" single-drawer nightstands which are seamlessly attached to the bed frame. Sturdy pine wood slats sit inside the bed…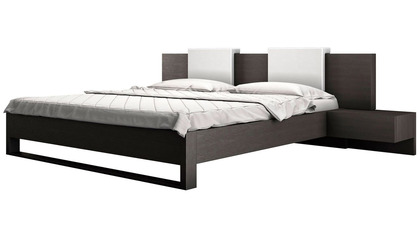 …Viserys Bed is perfect for creating a look of Zen in your bedroom retreat. Both sleek and cool, the Viserys features an extended wood-finished headboard overlapping two "floating" single-drawer nightstands which are seamlessly attached to the bed frame. Sturdy pine wood slats sit inside the bed…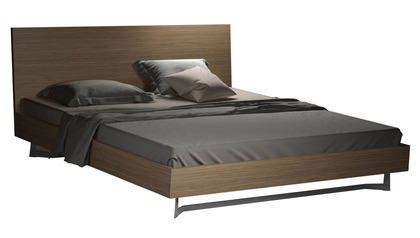 …elegant furnishing with the Brighton Bed in Latte Walnut frame. This modern bed has a lovely waist-high headboard, low-profile platform, and angled brushed stainless steel legs. This spacious bed allows you a comfortable slumber all night long. This stately bed is an essential in your modern home.…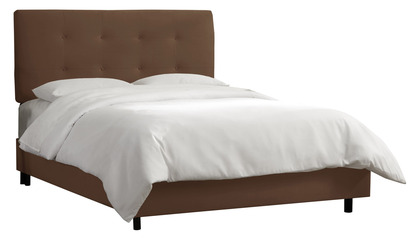 Fall asleep and enjoy a restful night on this Reanna Tufted Bed. The design is simple yet unforgettable with button tufting lined up in neat little rows and spacious bed frame with stubby legs underneath. The headboard is padded for added comfort as you lean back on it and is covered with durable…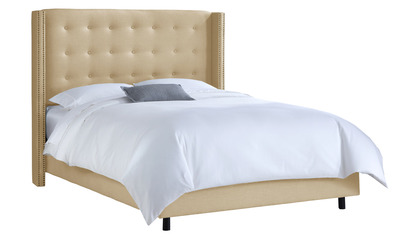 Fall asleep and enjoy a restful night on this Reanna Tufted Wingback Bed. The design is simple yet unforgettable with button tufting lined up in neat little rows and spacious bed frame with stubby legs underneath. The headboard is padded for added comfort as you lean back on it and is covered with…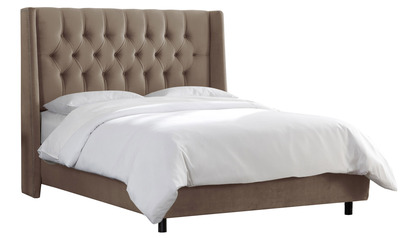 The Evie Nail Button Tufted Wingback Bed ensures a stylish bedroom with its high headboard with luxurious diamond tufting and sturdy bed frame. The headboard boasts of wingback panels at the sides which are flanking the padded top, columns of silver tone nail trims at both sides, and lush fabric…
A bed alone seems incomplete, so go ahead and add this Brighton Nightstand next to your bed to complete your contemporary room. It features a mix of materials, such as cement and wood, to make up a modern and stylish nightstand. Place a lamp on top and make your room a clutter-free haven with the…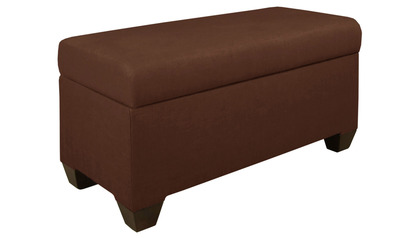 …Bench will be an indispensable addition for your home. Add another storage solution with this spacious bench's rigid wood frame padded and covered with high quality fabric. With short legs thick and angled at the sides for support and balance. Place it at the foot of the bed or the living room.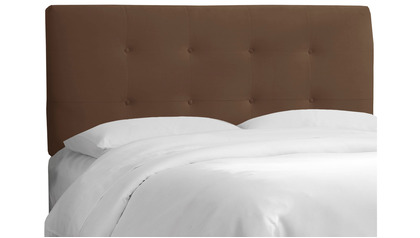 Elegant and timeless, the Reanna Tufted Headboard is a welcome addition to your stylish bedroom. Transform your sanctuary with its soft, straight lines and simple button tufting lined up in neat rows across its padded surface. It is covered in premium fabric that can be easily spot cleaned from time…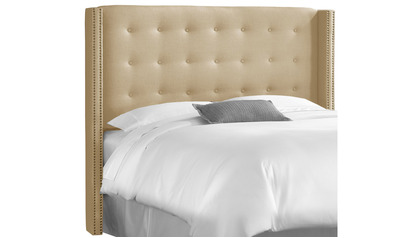 Create an unforgettable contemporary room with the Reanna Tufted Wingback Headboard. This piece retains its turn-of-the- century charm with the straight rows of shallow button tufting on upholstered surface. Thick wingback panels flank both sides and the double rows of nailhead trims lend it…

The Evie Nail Button Tufted Wingback Headboard is the type of piece that never goes out of style no matter how many years you use it. Its timeless overall design is complemented by diamond button tufting all over the padded surface and covered with high-quality fabric that's easy to clean. Making it…
The Verona Dresser offers ample storage with its six individual drawers in a variety of finishes to give it an elegant vibe. It features polished steel handles and Italian Danco-brand soft-closing hardware. Perfect for any modern bedroom or spacious closet. Matching nightstands and beds available.

…for your compact yet luxurious apartment with its mid-sized dome lampshade delicately balanced on a thin column that you can tilt easily. Set on a stable and thick round disc base while the cord is looped discreetly inside the slim column. Perfect for your minimalist living room or beside your bed.