Chase Lounge
SHOWING
1 - 12
OF 12 PRODUCTS
SORT LIST BY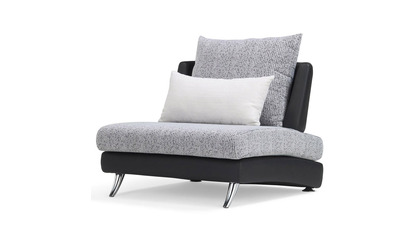 …fabric in grey and white contrasts with the stark black leatherette base and curved backrest. It includes a matching ivory fabric pillow. The lounge chair coordinates perfectly with all pieces in the Palms collection. It can be used independently or to make a longer sectional when combined with…
When it comes to recliners, the Luxor is a beacon of comfort and contemporary leisure. Beneath the solid design is the fluid-like motion of a power recliner and adjustable headrest that make for a smoother than butter transition. The power mechanism is a series of 4 polished nickel touch buttons…

The gentle, modern curves of our fabulous Zola Chaise Lounger make a bold expression of exquisite modern design in any room. Supple top grain leather provides unbelievable comfort while the solid stainless steel base ensures years of sumptuous durability. Features a removable headrest pillow that…
Searching for uncompromising comfort and cutting edge style? Our reclining Reno Chair combines both to produce the ultimate in a lounging experience. This is not your Grandpa's recliner! Resplendent in top grain gray leather on top with gorgeous contemporary side tufting in matching genuine split…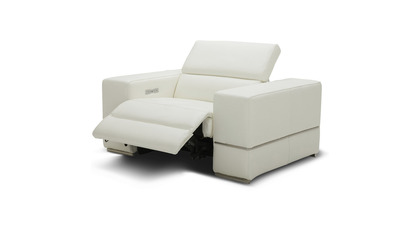 When it comes to recliners, the Luxor is a beacon of comfort and contemporary leisure. Beneath the solid design is the fluid-like motion of a power recliner and adjustable headrest that make for a smoother than butter transition. The power mechanism is a series of 4 polished nickel touch buttons…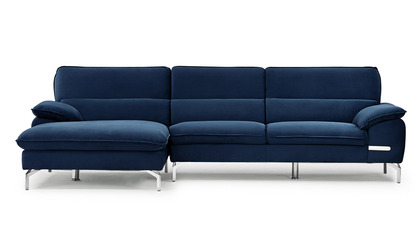 Give your room a "Pop of Color" with the ultra-unique Sapphire sectional. This piece is sure to brighten any room! Beautifully constructed with chrome legs and sapphire blue microfiber upholstery, you will be sure to lounge in comfort.
Create an impressive living room when you add this Quinn Sectional to the equation. This timeless sectional with chaise allows you to lounge or snooze on its comfy button-tufted and wide seat with high back in similar style. Boasting of a wide L-shape with low armrests at each side so you lean on it…
The ultra-modern Eden sectional sofa with matching ottoman exudes relaxation and luxury. With adjustable headrests, an expansive chaise lounge and an accompanying ottoman, the Eden is a truly versatile design you can arrange for your individual comfort. The Eden is the epitome of style upholstered…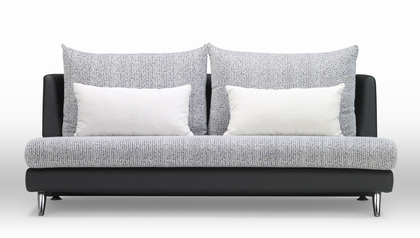 …nubby fabric in grey and white contrasts with the stark black leatherette base and curved backrest. It includes matching ivory fabric pillows. The lounge chair coordinates perfectly with all pieces in the Palms collection. It can be used independently or to make a longer sectional when combined with…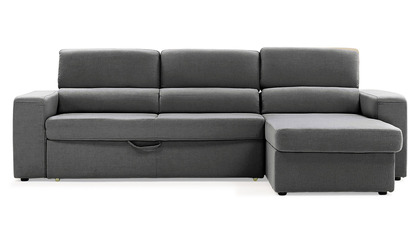 …steel hinges, kiln dried hardwood frame and high density foam. The sleeping area is equivalent to a full size bed. Clubber is perfect for smaller homes that have frequent overnight guests or if you just love lounging with extra room on movie night! Available in left and right configurations.

Searching for uncompromising comfort and cutting edge style? Our reclining Reno Sofa/Chaise sectional combines both to produce the ultimate in a lounging experience. This is not your Grandpa's recliner! Resplendent in top grain gray leather on top with gorgeous contemporary side tufting in matching…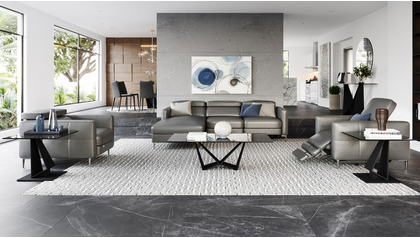 …for uncompromising comfort and cutting edge style? Our reclining Reno Sectional with Arm Chair combines both to produce the ultimate in a lounging experience. This is not your Grandpa's recliner! Resplendent in top grain gray leather on top with gorgeous contemporary side tufting in matching…