Dark Gray Dining Chairs
SHOWING
1 - 10
OF 10 PRODUCTS
SORT LIST BY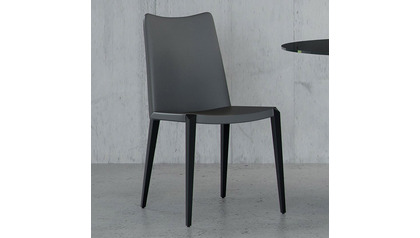 Looking to step up your dining room design game? Look no further than our Jordan Dining Chair. The Jordan features a simple silhouette with a lightly padded seat upholstered in dark gray leatherette with a subtle rounded backrest for superior lumbar support. The angular legs are a matte black…
…white, gray, or brown leatherette material, with a tufted pattern that wraps around the wide backrest. Slanted, brushed stainless steel legs cradle the padded seat and arm support. Just the right amount of luxurious and contemporary, the Sydney Dining Chair is an excellent addition to any dining…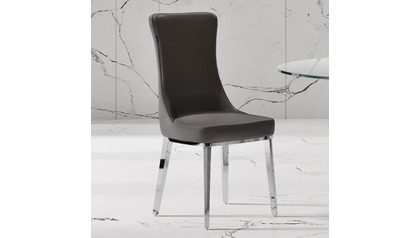 The Norma chair is a classic design with a modern twist. It features a dark gray leatherette upholstered seat with a curved and shapely backrest that enhances comfort and visual appeal. This is supported by angled polished stainless steel legs with a thin edge just on the bottom of the seat. If…
…a thin edge just on the bottom of the seat. If you're looking for a modern design that isn't as harsh or uninviting as others, our Norma Dining Chair has a softer, more feminine silhouette that strikes a perfect balance for any contemporary dining space. The suggested weight capacity is 275 lbs.
…its' sleek dark grey leatherette upholstery, our Mesa Dining Chair will have all of your dinner guests speechless. So dramatically curvaceous and stunning from the sturdy chrome iron base to the comfortable high back. Pair your mesa chairs with a sleek marble or glass top dining table with a…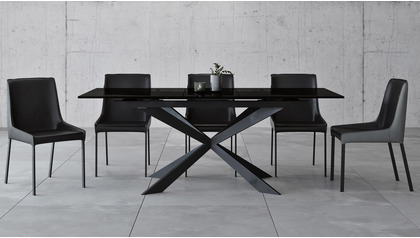 …of matte black powder coated steel. This is paired with your choice of four, six or eight of our stylish two-tone Helena Dining Chairs. The chairs feature smooth black and gray leatherette upholstery that ensures seating comfort and ample back support. The black powder-coated legs offer support and…
With all its beautiful curves, our Kaia collection is one of a kind. The luxurious materials used to construct these elegant pieces will shine for many years to come. Starting with the stainless steel frame, the three-step process of applying the Tiger© powder coating will defend from scratches,…
…cleaning and includes unique polished tubular stainless steel legs on the back. Available in your choice of Black, Brown, White, Cream, Dark Grey, Taupe, Red, and Dark Blue. There's a perfect color for every setting with the Boston dining chair collection. The suggested weight capacity is 220 lbs.
The Helena Dining Chair elicits a clean, smooth style with dark and modern undertones. It comes in an upholstered leatherette material that ensures seating comfort and ample back support. Complementing black and gray hues add interest to the construction. Black powder-coated legs offer support and…
The Helena Counter Stool lends dark sophistication to your dining room or kitchen counter area. Featuring a combination of black and gray leatherette, this counter stool evokes simplicity, functionality, and comfort. Black powder-coated legs make this counter stool look longer, while a sturdy…