Entryway
SHOWING
1 - 10
OF 10 PRODUCTS
SORT LIST BY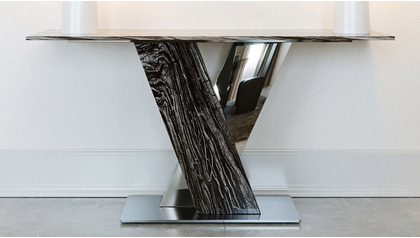 Grace your living room or entryway with this exquisite genuine Carrara marble console table with a polished geometric stainless steel base. Paired with one of our Malbec Dining Tables, this modern contemporary table will be sure to make a sophisticated statement. Naturally durable and easy to clean.…
…the Neve Sideboard is the ideal accent piece for a contemporary living or dining area. The simple design works great as a buffet, large entryway table, or even a media cabinet. It features clean solid lines in a high gloss white lacquer finish with polished stainless steel legs. Inside…
…drawer, and ample open storage. The Etta is constructed with black stained oak wood grain veneer. The compact size and features make it a great entryway piece or an alternate desk. This versatile piece is a solid design that pairs both simplicity and functionality. Matching coffee table, end table,…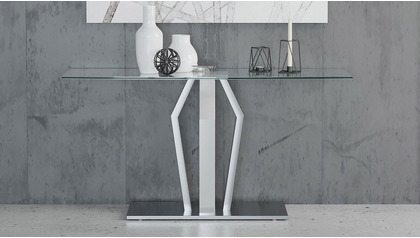 …contemporary beauty and sharp geometric shapes. Aiden features striking structural details with its rectangular tempered glass top with curved bow-front edge and angular brushed stainless steel base. Perfect for your entryway or pair it with the Aiden Dining Table as a mini buffet when entertaining.
With dramatic texture and geometric shapes, this one-of-a-kind mirror is a definite conversation piece. Perfect vertically in an entryway or horizontally above a mantle, prepare for a gorgeous addition to your home. Each fragment is hand-cut and specially placed adding dimension to catch the light,…
…sophisticated, the Neve sideboard is the ideal accent piece for a contemporary living or dining area. The simple design works great as a buffet, large entryway table or even a media cabinet. It features clean solid lines in a high gloss gray lacquer finish with polished stainless steel legs. Inside…
…red faux leather upholstered cushion to suit your space. The curved top is echoed in the sturdy polished stainless steel base. Think outside the box when you use the Sandra in your entryway, bedroom or anywhere you need extra seating. Suggested weight capacity for up to two persons is 525 pounds.

…doors, you'll find multiple shelves and a surprise drawer. A truly multi-purpose piece, the Motley Buffet works great as a sideboard, a large entryway table, or even as a media cabinet. Once this storage solution is added to your modern living space, you can rest easy knowing you have made a smart…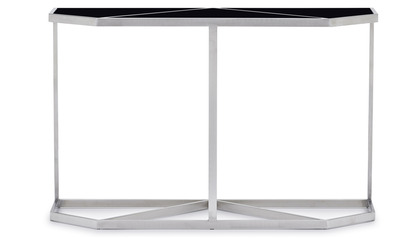 …such as keys, wallet, and phone, the Plaza Console Table succeeds in being radical in design but practical at the same time. Use it in your entryway, as a console behind your sofa or simply pair it with the coordinating coffee and end tables for a flawless and functional space. This product…
The unique configuration of this mirror will surely capture everyone's attention. This is the perfect accent for any entryway or empty wall. The standard silver option is a classic focal piece that stands out while blending in. Alternatively the red glass version will add just the right amount of…