Flat Base
SHOWING
1 - 14
OF 14 PRODUCTS
SORT LIST BY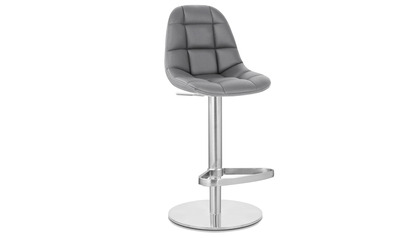 …supported by a brushed stainless steel base that swivels 360 degrees freely and includes a footrest that follows you all the way around. A gas lift adjusts the height and makes this stool the perfect fit for any counter top or bar height table. The flat base on this version of the Rochelle is solid…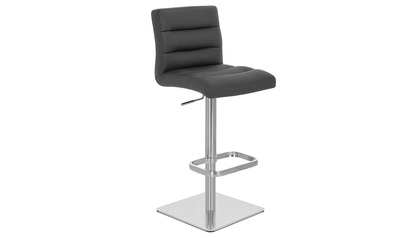 …Lush is the perfect fit for any counter top or bar table. The flat square base version is about 10 pounds heavier than the standard trumpet base, which gives added stability. Best of all, it features felted bumpers on the bottom of the base to protect your hardwood floors. Extravagance never felt so…
…bar table. Because it is made of solid stainless steel the flat round base version is about 10 pounds heavier than the standard trumpet base, which gives it added stability. Best of all, it features felted bumpers on the bottom of the base to protect your hardwood floors. Extravagance never felt so…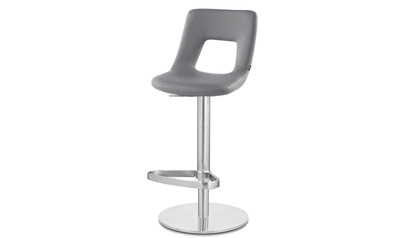 …and maintain. The brushed stainless steel base and footrest provide excellent support and a functional design. With the 360 degree swivel and a gas lift that adjusts the height, the Jazz is the perfect fit for any counter top or bar table. The flat base version is about 10 pounds heavier than the…
…and maintain. The brushed stainless steel base and footrest provide excellent support and a functional design. With the 360 degree swivel and a gas lift that adjusts the height, the Jazz is the perfect fit for any counter top or bar table. The flat base version is about 10 pounds heavier than the…
…supported by a brushed stainless steel base that swivels 360 degrees freely and includes a footrest that follows you all the way around. A gas lift adjusts the height and makes this stool the perfect fit for any counter top or bar height table. The flat base on this version of the Rochelle is solid…
…as you work in the office with the Spiracula Flat Low Back Drafting Stool. This unique office chair features a bungee seat to provide ventilation while conforming to any user. The frame is powder-coated black steel which is set on top of a nylon base with stationary fee attached. The stool is…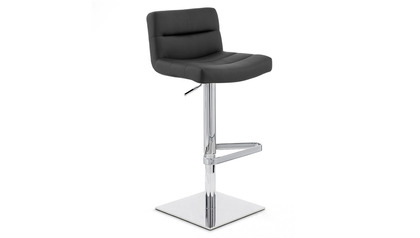 …table. The flat square base version of the Lattice is made of solid stainless steel and thus about 10 pounds heavier than the standard trumpet base. This gives added stability and also increases the weight capacity. Best of all, it features felted bumpers on the bottom of the base to protect your…
The Vivo LED Lighting is a modern addition to your office or bedroom. It features a flat head with flexible neck and stable base that flares at the bottom. Available in different colors to match your room's overall design.
…with this modern Palla Table Lamp. It features a mid-sized metal lampshade anchored to a slim column where the cord is looped inside. A flat disc base offers stability, making it perfect for both modern and traditional office spaces. Run a soft fabric over it to keep it clean. Its slim proportions…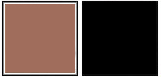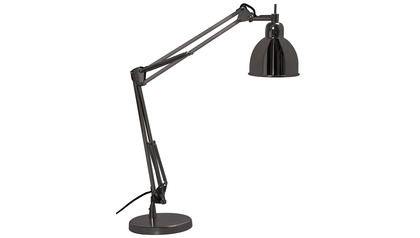 …need as you work with this Jac Table Lamp. It features a mid-sized cone lampshade with vents on top and adjustable pantograph arm mounted on a flat disc base, making it perfect for unique workspaces that require a lot of maneuvering. Just wipe to clean and the light bulb can be a breeze to replace…
Beauty and symmetry work in harmony in the Hilda Bar Table. Created with a tempered round glass secured to an X-shaped base with flat and slim legs. Tall and polished, the sophistication of this makes it perfect for contemporary and trendy bars.
…multi-level structure that features two black opaque tempered glass surfaces that seem to float between brushed stainless steel legs. The base is comprised of a flat L-shape of steel overlaid with a U-shape of steel square tubing which creates visual interest when viewed at an angle. Pair the Thanet…
…with the rest of its polished stainless steel structure. The base is comprised of a flat L-shape of steel overlaid with a U-shape of steel square tubing which creates visual interest when viewed at an angle. With the T-shaped base contrasting the round top, the Carmesi End Table is a study in…