Glass Dining Room Tables
SHOWING
1 - 10
OF 10 PRODUCTS
SORT LIST BY
…steel legs lift a dual-leaf white glass table to new heights of sophistication. So easy to extend, one person can effortlessly operate it. The Montez dining table creates a unique and stunning focal point in your dining room. The rectangular glass table sits on top of four polished stainless…
…glass. The oversized top ensures that everyone will have plenty of elbow room and seats up to 8 guests comfortably. The matching console table works great as a last-minute buffet for family gatherings. This carefully balanced design steals the spotlight while seamlessly blending into any dining…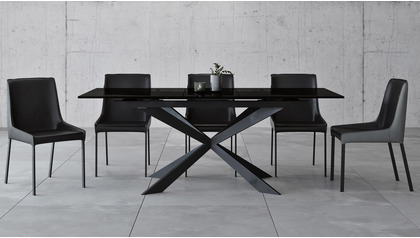 …dinner guests? Not to worry when you have the Burton Extension Dining Table! This dark and dreamy table includes a thick smoked tempered glass top with a convenient central self-storing 16" leaf that you can easily slide out to make room. The smooth action rails are securely fastened to an X-shaped…
…leaving a rhombus-shaped opening between the two. The Vilma will seat up to 8 guests comfortably and looks great paired with the clean lines of the Jordan Dining Chair and a simple buffet. Sleek and angular, the Vilma 82-inch Dining Table is one dining room centerpiece well worth the investment.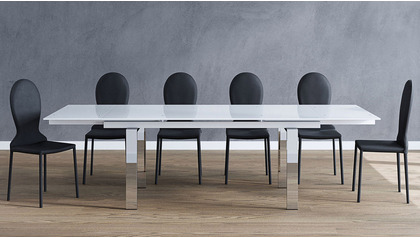 …steel legs lift a dual-leaf white glass table to new heights of sophistication. So easy to extend, one person can effortlessly operate it. The Montez Dining Table creates a unique and stunning focal point in your dining room. The rectangular glass table sits on top of four polished stainless…
…design details that will surprise and impress all your guests! The clean, futuristic design of our glass top Fiore contemporary dining table makes it ideal for a home dinette or even an office break room. Moreover, the durable polished stainless steel pedestal grounded by a black steel base dresses…
…a modern aesthetic. The brilliant white color is perfect for contemporary apartments or traditional formal dining rooms. Pair this with a plain glass table or a beautiful mid-century style walnut dining table to highlight the chair's perfect simplicity! This product is suitable for indoor use only.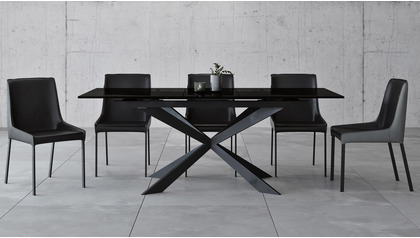 …dinner guests? Not to worry when you have the Burton Extension Dining Table! This dark and dreamy table includes a thick smoked tempered glass top with a convenient central self-storing 16" leaf that you can easily slide out to make room. The smooth action rails are securely fastened to an X-shaped…
…or dining area. The simple design works great as a buffet, large entryway table or even a media cabinet. It features clean solid lines in a high gloss gray lacquer finish with polished stainless steel legs. Inside the four simple push to open doors you'll find two clear tempered glass adjustable…
…or dining area. The simple design works great as a buffet, large entryway table, or even a media cabinet. It features clean solid lines in a high gloss white lacquer finish with polished stainless steel legs. Inside the four simple push-to-open doors, you'll find two clear tempered glass adjustable…