Glass Shelf
SHOWING
1 - 13
OF 13 PRODUCTS
SORT LIST BY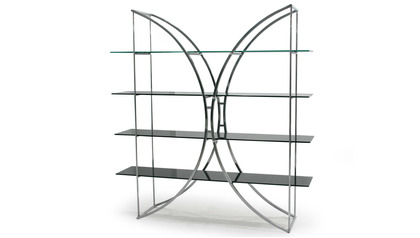 Elegant and beautiful, this steel and glass butterfly shelf will add the perfect amount of class to any space.
…is a modern, functional marvel that can easily hold your all books and collectibles for display. The entire shelf is crafted from brushed stainless steel and tempered black opaque glass, which has sleek, monochromatic appeal. Exposed frames jutting at angles add visual interest to an otherwise…
…Media Shelf. It features shiny polished stainless steel and contrasting black opaque tempered glass surfaces. With its three-tiered display, you have plenty of room to organize your devices as well as display books and curios. Great for any modern or industrial space, the Maldives Media Shelf…
…Kube End Table captures every designer's desire for simplicity and versatility. We intentionally crafted this amazing piece in classic mirror to reflect the color palette of your space. With an interior glass shelf for hidden storage, we know you'll fall in love with this end table again and again.
Create a well-rounded living space with the Globus Coffee Table. Peer through the circular glass table top to the seemingly floating circular shelf below nestled between two overlapping U-Shaped bases. Add this unique piece to your home today!
The Luton Side Table is a simple yet versatile side table. This straight forward design features opaque black or red tempered glass on the top and bottom shelf surrounded by a sturdy and well balanced polished stainless steel frame. Its c-shaped form and minimal base allow it to be nested under many…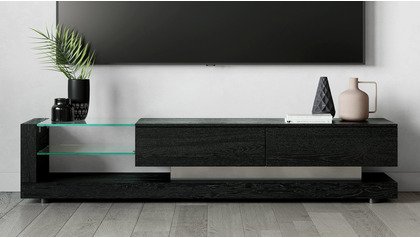 As stunning as it is efficient for every day use, the Etta TV Stand features a tempered glass top and removable shelf, two built in drawers and ample open storage. The Etta is constructed with black stained oak wood grain veneer and brushed aluminum accent on the base, resulting in a sophisticated…

…modern bedroom space. Embellished with a mirrored glass finish and black crystal drawer pulls, the Azul collection offers the perfect touch of elegance. The expansive storage includes three drawers and two cabinets on each side with an adjustable shelf behind the door. Pair with the Azul Mirrored…
…stainless steel and black opaque glass, it exhibits a modern allure from top to bottom. Its layered construction allows for an interesting, effortless display of curios or artistic pieces. Pair the Maldives End Table with the matching coffee table or media shelf to finish off the streamlined look…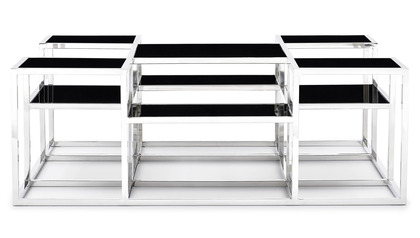 …is a visual and functional enchantment even from a distance. It features polished stainless steel all throughout, which connect five opaque black glass mini tables on its first level and four more on its lower level. This multi-layered design allows for both form and function, whether for holding a…
…for your extensive book or record collections. Alternately, you can use this shelf to hold and showcase your art and precious collectibles. It is constructed from sturdy polished stainless steel and clear tempered glass, which renders it visually light but also exceptionally durable. Great for home…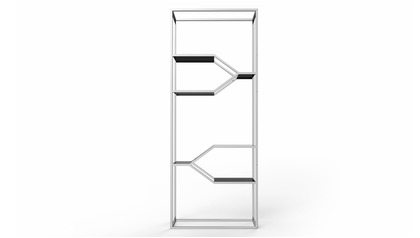 …and unique design, the Haviland Bookshelf takes practical beyond the predictable. Thick tempered black opaque glass are nested into a polished stainless steel scaffolding to form the shelf partitions. Boasting an open, see-through style, this bookshelf channels minimalism and a multi-dimensional…
…stands out with the multiple tiers so you can stack magazine or light paperbacks on the second or third shelf, while the top tier can is perfect for an antique vase. Each tier is made from glass and encased inside a geometric steel frame that resembles a hollowed cube. Match with a black leather or…