Glass Top Extendable Dining Tables
SHOWING
1 - 11
OF 11 PRODUCTS
SORT LIST BY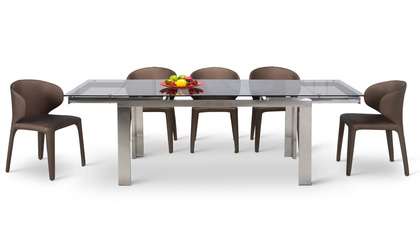 …quality, smoked glass table top to new heights of sophistication. So easy to extend, one person can effortlessly operate it. This dining set includes your choice of siz, eight or ten of our Enzo Dining Chairs. We can't say enough about the retro/modern cafe-inspired Enzo Dining Chair. This rounded…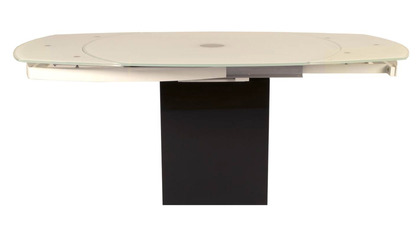 …dinners, we offer you this Manlio Extension Dining Table. It is a picture of modern elegance with its tempered glass table top set on a black granite base. A space maximizer, it comes with an extension that you can make use of by simply spinning the top. This table is a must-have for modern living.
Time to upgrade your dining room with the Noyer Extension Dining Table! With its' classic design, this expertly crafted table features a smoked grey tempered glass top with two self-storing extension leaves that measure 16 inches each. The 1/2" thick glass sits atop a central polished stainless…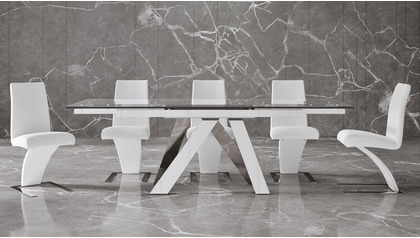 …legs and a crystal clear tempered glass table top. This stylistically dazzling piece enhances any dining space with its rich color and high quality materials. Seats 6-10 guests. With both leaves extended, the table totals 94 inches in length. Also available in a chocolate brown tinted glass top.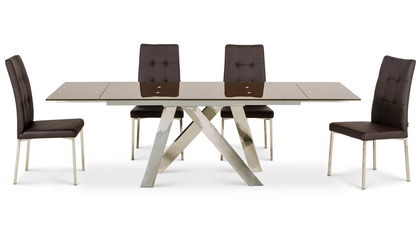 …15.5 inch table leaf extensions, polished stainless steel sawhorse style legs and a rich chocolate tempered glass table top. This stylistically dazzling art piece enhances any dining space with its use of rich color and high quality materials. With both leaves extended, the table totals 94 inches…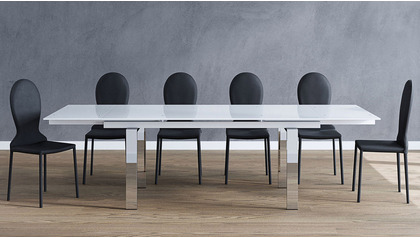 …steel legs lift a dual-leaf white glass table to new heights of sophistication. So easy to extend, one person can effortlessly operate it. The Montez dining table creates a unique and stunning focal point in your dining room. The rectangular glass table sits on top of four polished stainless steel…
…any modern dining space. The Enzo will seat 6-10 guests comfortably with its generous 94 inch total length (includes 16 inch twin-leaf extensions). polished stainless steeld steel legs lift this high quality, smoked glass table top to new heights of sophistication. So easy to extend, one person can…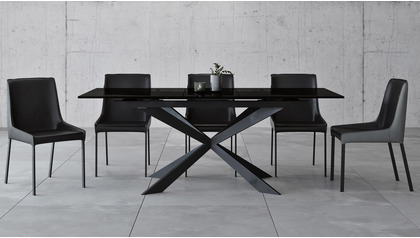 Suddenly find yourself with some unexpected dinner guests? Not to worry when you have the Burton Extension Dining Table! This dark and dreamy table includes a thick smoked tempered glass top with a convenient central self-storing 16" leaf that you can easily slide out to make room. The smooth action…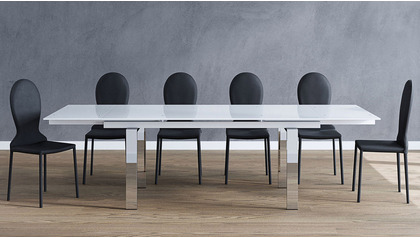 …legs lift a dual-leaf white glass table to new heights of sophistication. So easy to extend, one person can effortlessly operate it. The Montez Dining Table creates a unique and stunning focal point in your dining room. The rectangular glass table sits on top of four polished polished stainless…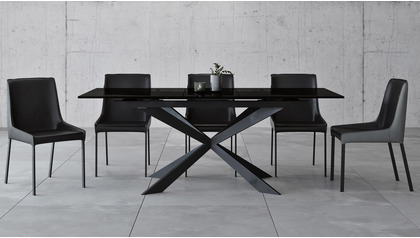 Suddenly find yourself with some unexpected dinner guests? Not to worry when you have the Burton Extension Dining Table! This dark and dreamy table includes a thick smoked tempered glass top with a convenient central self-storing 16" leaf that you can easily slide out to make room. The smooth action…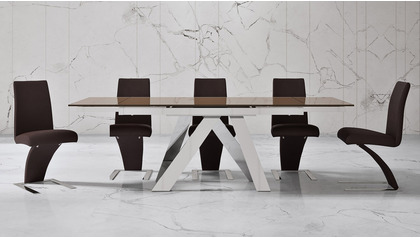 …15.5 inch table extensions, polished stainless steel sawhorse style legs and a rich chocolate tempered glass table top. This stylistically dazzling piece enhances any dining space with its rich color and high quality materials. Seats 6-10 guests. With both leaves extended, the table totals 94 inches…