Grey Coffee Table
SHOWING
1 - 10
OF 10 PRODUCTS
SORT LIST BY
The Zica table - with tempered glass top is a contemporary, small, circular side table suitable for indoors. Composed of a tripod metal base and table-top woven with vinyl cord. Coordinates well with our many vinyl cord chairs. The galvanized steel is rust resistant and the very durable yet…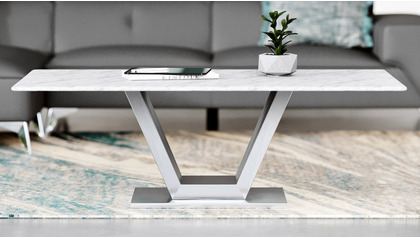 …Port Coffee table offers not only style and sophistication, but function as well. This elegant coffee table features a brushed stainless steel base with a smooth, rectangular white and gray marble top. This sleek table will blend harmoniously in any modern space. Pair with the Port End Table to…
…End Table offers not only style and sophistication, but function as well. This elegant end table features a brushed stainless steel base with a smooth, rectangular white and gray marble top. This sleek table will blend harmoniously in any modern space. Pair with the Port Coffee Table to complete…
The Zica Table with tempered glass top is a contemporary, small, circular side table suitable for indoors and out. Composed of a tripod metal base and table-top woven with vinyl cord. Coordinates well with our many vinyl cord chairs. The galvanized steel is rust resistant and the very durable yet…

The Zica Table with tempered glass top is a contemporary, small, circular side table suitable for indoors and out. Composed of a tripod metal base and table-top woven with vinyl cord. Coordinates well with our many vinyl cord chairs. The galvanized steel is rust resistant and the very durable yet…

…flared so they can also be used as pillows for impromptu naps. It has a concealed yet sturdy frame and is supported by sleek glossy black powder-coated resilient steel legs. Add a long coffee table in front plus a comfy modern rug and your new living room with the Rider Sectional will be complete!
The Cafe Chair is a unique piece with a built-in clear tempered glass side table that can be on your right or left-hand side. Relax in style on the durable gray velvet fabric while you have a cup of coffee or tea. Great for your reading nook or even an accent chair in receptions and offices. The…
…and upholstered in wear- and stain-resistant grey polyester fabric. The edges have soft cushioned armrests to lean on as you read, while the base is made from durable polished stainless steel. Boost the harmony of your home's decor by pairing this with a modern coffee table with a shiny chrome base.
The Cafe Chair is a unique piece with a built-in clear tempered glass side table that can be on your right or left-hand side. Relax like royalty in the cocoon of plush red velvet fabric while you have a cup of coffee or tea. Great for your reading nook or even an accent chair in receptions and…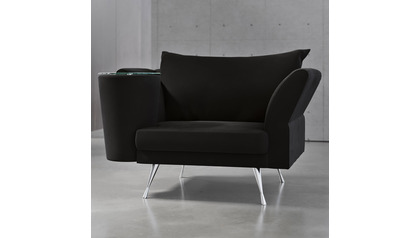 The Cafe Chair is a unique piece with a built-in clear tempered glass side table that can be on your right or left-hand side. Relax like royalty in the cocoon of plush black velvet fabric while you have a cup of coffee or tea. Great for your reading nook or even an accent chair in receptions and…