Grian
SHOWING
1 - 9
OF 9 PRODUCTS
SORT LIST BY
The Grian Nightstand offers extra storage space in your own urban haven—your bedroom. This compact and sleek nightstand features double drawers with copper accent and an equally spacious top for a modern desk lamp and some books. The drawers are balanced on resilient and angled copper legs. With a…

What sets the Grian Dresser apart from the regular versions is its smooth sleek wood grain finish matched with classic copper drawer pulls. You'll have a lot of storage space available for all your clothes with its spacious multiple drawers plus an extra shelf space with the wide smooth top. Perched…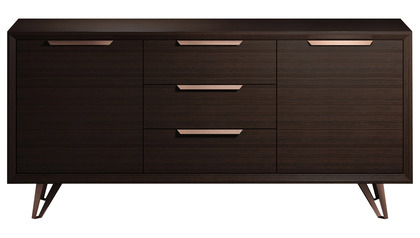 Explore storage possibilities with this the Grian Sideboard. This contemporary storage solution features long rectangular top for vases and other accents, while the multiple cabinets with double shelves at the sides allow you store plates and other objects inside. This sideboard comes with three…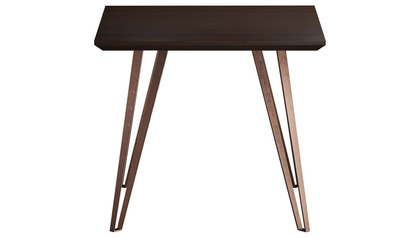 The simple design of the Grian Side Table has its own appeal. It features a pared-down square-shaped table with a smooth wood grain finish and attached to sleek copper legs. This balanced and minimalist table is burnished to a high shine and perfect with a light-colored sofa set or sectional.

What sets the Grian Dresser apart from the regular versions is its smooth sleek wood grain finish matched with classic copper drawer pulls. You'll have a lot of storage space available for all your clothes with its spacious multiple drawers plus an extra shelf space with the wide smooth top. Perched…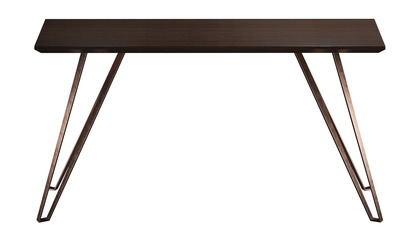 The Grian Console Table fuses style and function to your urban haven with its extra shelf space. It features a long rectangular table top with classic wood grain finish and supported with multiple copper legs angled for stability. Set it against a wall and put a desk lamp or a glass vase on it to…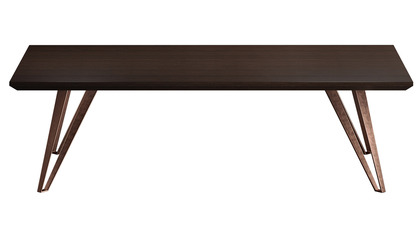 …with the subtlety of this Grian Coffee Table. This slim table has a smooth rectangular top balanced on angled and contrasting copper legs. It has a distinct wood grain finish that offers warmth and color to your living room. Improve your living room with this simply stylish Grian Coffee Table.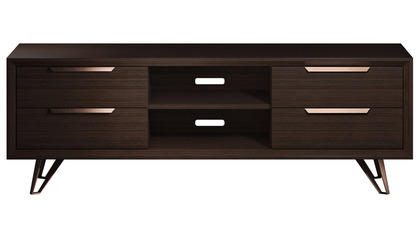 Everything you need to be entertained at home and declutter it at the same time is in this Grian Media Cabinet. It features a spacious top portion for your television and cable box, while double shelves at the middle portion are reserved for DVDs and game consoles. Double cord pass-through keep it…
Regal and spacious best describe this Grian Bed. It features wide double headboards with a slim gap between the two and low pine platform that accommodates a king size foam/latex mattress. It is supported with multiple copper legs angled for added stability. The clean lines and overall modern design…