King Platform Bed
SHOWING
1 - 15
OF 15 PRODUCTS
SORT LIST BY
…bed is a romantic addition to your quiet sanctuary. The curved headboard is upholstered in a bright red microfiber leather and features a unique black stitching details on the edges. The back, siderails and footboard are covered in a matching high quality red leatherette. The platform style bed…

Just like the legendary Greek god, our king (or queen) sized Adonis Platform Bed combines unparalleled beauty with sweeping grace. Tantalizing curves in a chic white leather coupled with sophisticated quilted tufting make this a magnificent piece to remember. The frame is finished off with two…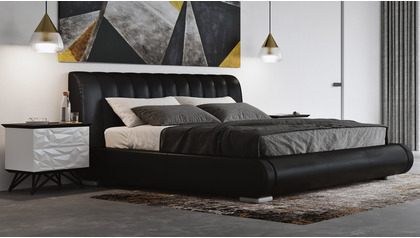 Chic and luxurious, the Dior bed is for the designer in all of us. The platform bed's clean modern lines and padded channel-back headboard create a comfortable oasis in your home. The curved headboard is upholstered in a top grain black aniline dyed leather with a synthetic leatherette match on the…

…bed is a romantic addition to your quiet sanctuary. The curved headboard is upholstered in a bright white microfiber leather and features unique black stitching details on the edges. The back, side rails, and footboard are covered in a matching high-quality white leatherette. The platform style bed…

Nothing embodies true class and pure sophistication in modern design like our Hera Platform Bed. From the detailed brushed stainless steel feet and side rail accents to her contemporary bright white genuine leather adjustable headboard and matching leatherette sides, Hera will reign over your…

Nothing embodies true class and pure sophistication in modern design like our Hera Platform Bed. From the detailed brushed stainless steel feet and side rail accents to her contemporary black genuine leather adjustable headboard and matching leatherette sides, Hera will reign over your bedroom like…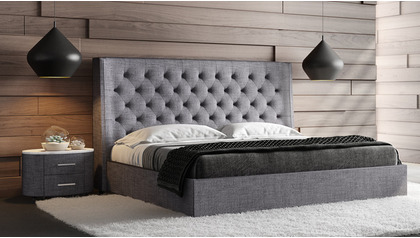 …design lies a contemporary and convenient storage bed. Perfect for smaller rooms where space is at a premium, the built in and easy to use gas-lift storage is a life saver. Simply use the concealed fabric handle to raise and lower the mattress platform as needed. Inside a flexible European wood slat…

…beautiful Marlo Leather Bed. This low-profile platform bed features softly curved edges that will cradle your mattress. The bright white genuine leather headboard is tilted at a precise ergonomic angle so you can lean on it comfortably which is perfect for reading in bed before you sleep. Pair it…
Just like the legendary Greek god, our king (or queen) sized Adonis Platform Bed combines unparalleled beauty with sweeping grace. Tantalizing curves in a chic black leather coupled with sophisticated quilted tufting make this a magnificent piece to remember. The frame is finished off with two…
…our beautiful Marlo Leather Bed. This low-profile platform bed features softly curved edges that will cradle your mattress. The black genuine leather headboard is tilted at a precise ergonomic angle so you can lean on it comfortably which is perfect for reading in bed before you sleep. Pair it with…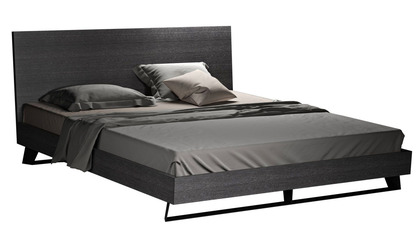 …and function go together in the Adal Bed with an elegant Gray Oak veneer. Sublime and modern, the low profile matches its' toned-down color. It features short, angled matte black steel legs that give it the feeling of floating on air. A sturdy slatted pine platform supports any standard inner-spring…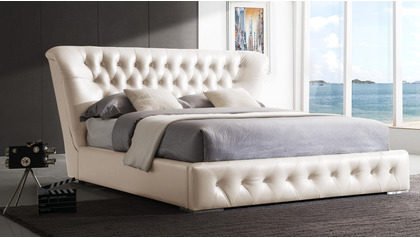 …champagne colored leatherette combined with the commanding size of the curved headboard make the Gemini bed a "must have" modern classic. Pair it with the matching Leda nightstand for the complete look. Mattress sold separately. Includes pre-assembled folding slatted mattress platform support.
The Asian-inspired Brookline platform bed features a low profile hardwood frame in a Wenge finish with coordinating built in nightstands. An upholstered beige fabric headboard compliments this lavish floating wood veneer bed frame. Mattress sits 4" snugly into the frame on a pine-slated support…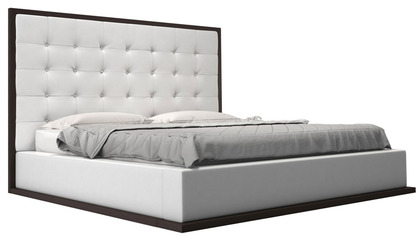 …into its matching side rails with a wood border along the bottom edge. The mattress sits snugly atop a solid pine-slat base for stylistic durability and added comfort. Available in California-King, Standard King, and Queen sizes. Slatted Platform height is 12" from floor. Mattress sold separately.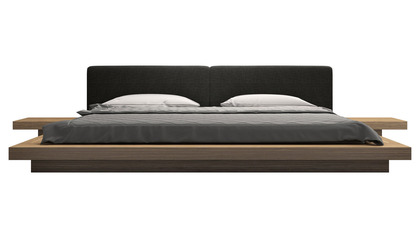 The Asian-inspired Brookline platform bed features a low profile hardwood frame in a Wenge finish with coordinating built in nightstands. An upholstered slate fabric headboard compliments this lavish floating wood veneer bed frame. Mattress sits 4" snugly into the frame on a pine-slated support…