Leather And Chrome Barstools
SHOWING
1 - 14
OF 14 PRODUCTS
SORT LIST BY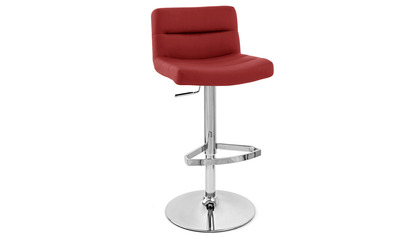 …padded with high-density foam and upholstered in premium, soft leatherette with channel tufting. The superbly comfortable seat is supported by a chrome stem and trumpet base that swivels 360 degrees freely and includes a triangular footrest that follows you all the way around. A gas lift adjusts the…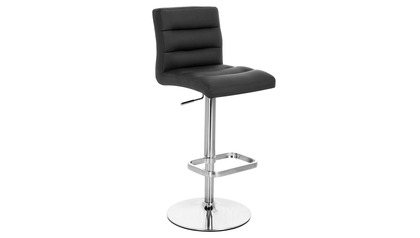 …padded with high density foam and upholstered in premium, soft leatherette with channel tufting. The ludicrously comfortable seat is supported by a chrome stem and trumpet base that swivels 360 degrees freely and includes a rectangular footrest that follows you all the way around. A gas lift adjusts…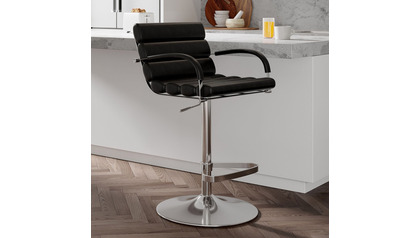 …armrests. It features thick tubular seat cushions made of high density foam and upholstered in premium faux leatherette. This is supported by a chrome column and trumpet base that swivels 360 degrees freely and includes a footrest that follows you all the way around. A gas lift adjusts the height…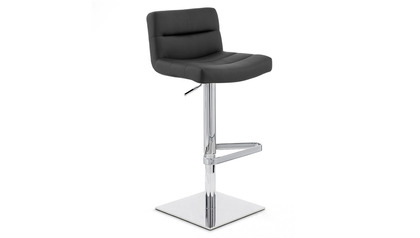 …padded with high density foam and upholstered in premium, soft leatherette with channel tufting. The superbly comfortable seat is supported by a chrome base that swivels 360 degrees freely and includes a triangular footrest that follows you all the way around. A gas lift adjusts the height and makes…

…with high density and upholstered in premium, soft leatherette. This unique seat is supported by a chrome stem and trumpet base that swivels 360 degrees freely and includes a tubular chrome wrap around footrest. A gas lift adjusts the height and makes this stool the perfect fit for any counter…
…is cushioned with high density and upholstered in premium, soft leatherette. This is supported by a chrome stem and trumpet base that swivels 360 degrees freely and includes a tubular chrome wrap around footrest. A gas lift adjusts the height and makes this stool the perfect fit for any countertop…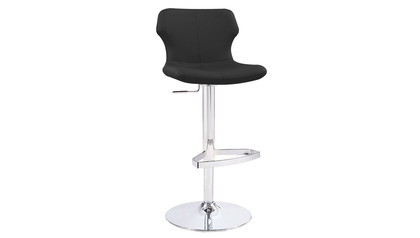 …features a high-density foam cushioned seat upholstered in premium, soft leatherette with decorative top stitching details. This is supported by a chrome column and trumpet base that swivels 360 degrees freely and includes a footrest that follows you all the way around. A gas lift adjusts the height…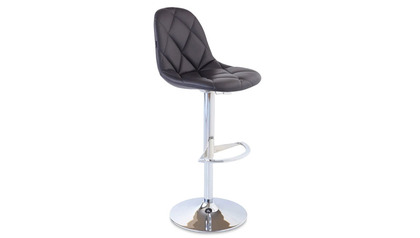 …foam cushioned seat upholstered in premium, soft leatherette in a diamond tufted pattern. The exquisitely comfortable seat is supported by a chrome column and trumpet base that swivels 360 degrees freely and includes a footrest that follows you all the way around. A gas lift adjusts the height…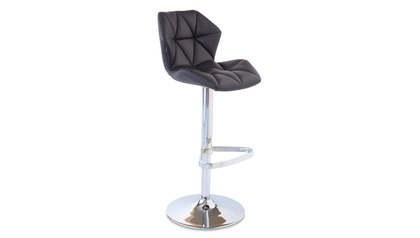 …upholstered in premium, soft leatherette in a diamond tufted pattern over a geometric shaped framework. The extra plush seat is supported by a chrome column and trumpet base that swivels 360 degrees freely and includes a footrest that follows you all the way around. A gas lift adjusts the height…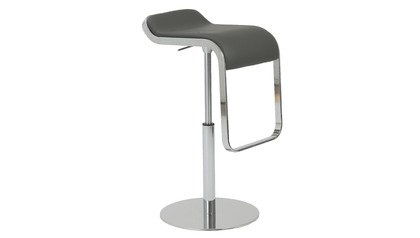 A unique shape in a well made bar/counter stool that is fully adjustable and fully assembled.
The Domino Bar Stool offers a luscious upgrade to a restaurant, kitchen, or bar with its plush, padded seat and back, curved at the sides plus stitch paneled at the center for added unique detailing. It features a full 360 degree seat rotation and has a lever underneath for easy height adjustment.…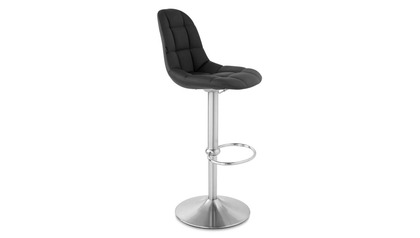 …any counter top or bar height table. The sleek brushed stainless steel trumpet base provides excellent support while being a great match to stainless steel kitchen appliances. (But if chrome is more your style, check out Rochelle's brother, the Romy Bar Stool!) Suggested weight capacity of 275 lbs.
…top allows you to sit back and relax after a good meal, while the padded seat is soft enough so eating in comfort becomes a reality. The U-shaped chrome base defies expectations as it can accommodate a wide variety of weights. Available in sets of 2. Matching bar and counter stools available in…

…soft faux leather for superior relaxation and easy cleaning. It features a supportive backrest and plush seat cushion with a unique channel tufting design that makes this an extremely comfortable stool. Completing this sleek stool is a convenient footrest on a sturdy tubular chromed steel stationary…