Led Floor Lamp
SHOWING
1 - 9
OF 9 PRODUCTS
SORT LIST BY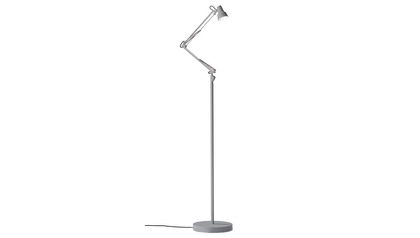 The Quest LED Floor Lamp focuses on smooth movement, optimal function and clean design. A USB port on the base provides a convenient means of charging mobile devices while the feather-touch control allows for 7 Watts of warm, bright light to be directed exactly where it is needed. The Quest…

…minimal statement with high impact, the Wilshire LED floor lamp presents a strong design statement around the latest LED lighting technology. The open grid pattern of the 4" high drum shade is highlighted by a frosted styrene liner. The 24 Watt LED light source yields up to 2000 lumens. A touch disc…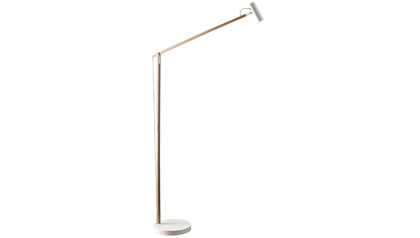 …living space and settle down in your favorite armchair with the Crane LED Floor Lamp beside you. Dive into a new book or use it as an additional light as you study as it illuminates with a bright yet energy-saving 5 watt LED bulb encased in a tube head. The tall arm is fully adjustable so you can…
This dramatic sweep of satin steel illuminates any room with the brilliance of energy-efficient 24 Watt LEDs. The flat square tube extends more than 7 feet and offers a five-way switch to control the light from bright to intimate.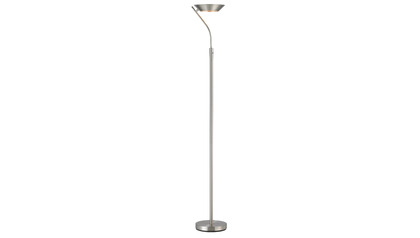 A ring of brilliant LEDs gives the Saturn LED torchiere a capacity of 2000 lumens. The adjustable open-ring metal shade contains the array of energy-efficient LEDs under a plastic casing to provide up and down illumination. The black five-way push switch on the pole adjusts the light from low to…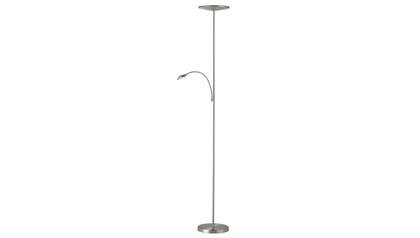 Style, function, and energy efficiency are wrapped up in the Pluto LED Combo torchiere. The flat disk shade houses the array of LEDs with a 24 Watt capacity. They are protected by an acrylic shield. The stick pole body also holds a gooseneck reading light equipped with a 3-watt LED.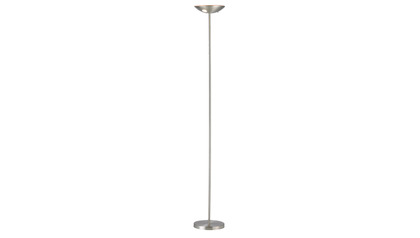 The Mars LED Combo Torchiere gives you brilliant, energy-efficient illumination two ways. The vented metal bowl shade holds 24 Watt LEDs for 2000 lumens of uplighting while the 1.5" Diameter cutout at the bottom of the shade yields a 3 Watt downlight. The satin steel finish suits the simple style…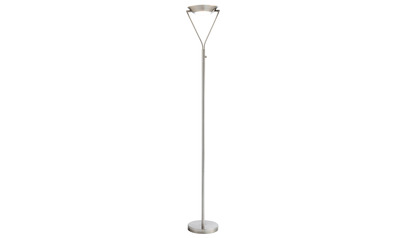 …the Vista LED torchiere provides two levels of up and down light in a stylish package. The body, with a satin steel finish, holds two rods that extend into a "V" shape. This holds the metal shade which has white glass at the bottom and an acrylic shield at the top. The LEDs provide 1600…
A slim profile and sleek brushed steel finish make up the Kepler LED Torchiere. The 24 Watt frosted up light that illuminates the room with 2,700 Lumens of warm, dimmable light is formed to mirror the shape of the base. A simple and highly functional piece, this torchiere can add a modern touch to…