Light Gray Chair
SHOWING
1 - 11
OF 11 PRODUCTS
SORT LIST BY
…lumbar support in our Wrigley executive office chair provide the ergonomic comfort give your office a handsome stylistic flair of professionalism. Available in dark brown with white accents, dark gray with black accents, light taupe gray with dark gray accents, or off-white with black accents.…
Get ready for the show stopper! Vitali will add instant style to your space, with it's unique black stitching and color options, the possibilities are endless. The black stitching details and silver powder-coated steel angled legs make this a one-of-kind accent piece. Also available in red.
Get ready for the show stopper! The Vitali Sectional will add instant style to your space, with it's light grey microfiber leather upholstery and unique black stitching details on the edges. It features a serpentine curving backrest that creates a deep seat on the ends that is great for lounging.…
Looking to step up your dining room design game? Look no further than our Jordan Dining Chair. The Jordan features a simple silhouette with a lightly padded seat upholstered in dark gray leatherette with a subtle rounded backrest for superior lumbar support. The angular legs are a matte black…
With smooth curves and an origami-like structure, the Bouncee Chair is bound to turn heads. It is an effective mix of well padded cushions, a variety of soft cashmere-like fabric choices, and a lumbar supporting curved backrest. This sparse yet ingenious design features a base of thick chromed steel…

…past, the ultra-luxurious Aspen Chair is the perfect fit for any contemporary home or office. The innovative design boasts sleek, simple, soft lines that maximize style and relaxation. It is available in your choice of bright white, jet black, taupe brown and light grey microfiber leather with a…
…recline of the seat in comparison to the backrest. This prevents the rocking chair effect and helps keep your feet on the ground while still increasing blood circulation and better spinal alignment. Don't wait any longer, with the Forbes Leather Executive Chair you've just found your next blue chip.
…Armondo Chair is the smooth chrome swivel base. The rounded plush seat with sloping armrests is upholstered in your choice of three different color combinations. It is available in bright white microfiber leather with camel brown leatherette accents, bright white microfiber leather with light grey…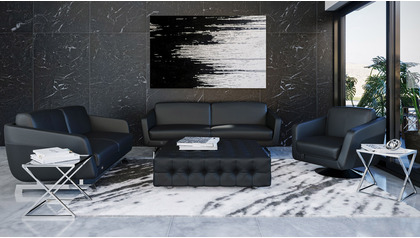 …color combinations. It is available in bright white microfiber leather with camel brown leatherette accents, bright white microfiber leather with light grey leatherette accents, or solid black microfiber leather with matching black leatherette accents on the base. Stationary or swivel, the Armondo…
…brown leatherette accents, bright white microfiber leather with light grey leatherette accents, or solid black microfiber leather with matching black leatherette accents on the base. Pair it with either the matching sofa or swivel chair and some chrome accent tables or contrasting warm walnut pieces…
…leatherette accents, bright white microfiber leather with light grey leatherette accents, or solid black microfiber leather with matching black leatherette accents on the base. Pair it with either the matching loveseat or swivel chair and some chrome accent tables or contrasting warm walnut pieces…