Living Room Cabinet
SHOWING
1 - 11
OF 11 PRODUCTS
SORT LIST BY
…spacious expanse with multiple adjustable height shelves and two holes for wire management to suit your storage needs. Be it in your dining room, living room or even office, the Velasca has all the storage space you need. Pair with the matching Velasca accent table and TV stand to complete any room.
…enhance any room in your home. And we do mean any room! With its asymmetrical design and sleek color-blocking, this buffet cabinet is both a statement piece and a practical storage solution with multiple shelves. Whether you place it in your living room as a media cabinet or in your dining room as a…
Design your living room around the elegant Neve TV Stand that gracefully embodies modern design. The minimalistic piece features four push-to-open doors with a high gloss white lacquer finish and polished stainless steel legs. This TV stand is perfect for storing any loose wires and electronics that…
…taking a unique approach to traditional tv stands. The striking wave-like design and simplicity of this unit will bring peace and prosperity to any room it resides in. Encompassing both a beautiful design and well appointed functionality, this stand will serve you well. Accompany this piece with the…
…dimension and functional organization to your space with the Velasca TV Stand. This piece features a matte black lacquer finish that highlights a series of multi-dimensional geometric squares. Complete your entire room with this beautiful TV Stand, the Velasca Accent Table and the Velasca Sideboard.
Simple and sophisticated, the Neve Sideboard is the ideal accent piece for a contemporary living or dining area. The simple design works great as a buffet, large entryway table, or even a media cabinet. It features clean solid lines in a high gloss white lacquer finish with polished stainless steel…
Simple and sophisticated, the Neve sideboard is the ideal accent piece for a contemporary living or dining area. The simple design works great as a buffet, large entryway table or even a media cabinet. It features clean solid lines in a high gloss gray lacquer finish with polished stainless steel…
…doors reveal a massive space with multiple adjustable height shelves and two holes for wire management to suit all your storage needs in any room in the house. The Vortice Sideboard is a piece of art in itself that will transform your home into a modern gallery. The suggested weight capacity…
…features shiny polished stainless steel and contrasting black opaque tempered glass surfaces. With its three-tiered display, you have plenty of room to organize your devices as well as display books and curios. Great for any modern or industrial space, the Maldives Media Shelf guarantees functional…
…doors reveal a massive space with multiple adjustable height shelves and two holes for wire management to suit all your storage needs in any room in the house. The Vortice Sideboard is a piece of art in itself that will transform your home into a modern gallery. The suggested weight capacity…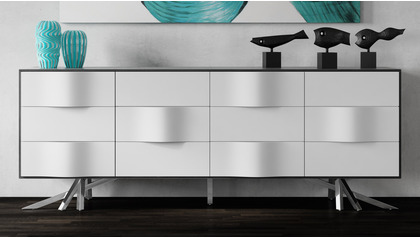 …a unique approach to traditional buffets. The striking wave-like design and simplicity of this sideboard will bring peace and prosperity to any room it resides in. Encompassing both a beautiful design and well-appointed functionality, this buffet table will serve you well. Accompany this piece…