Love Seat
SHOWING
1 - 14
OF 14 PRODUCTS
SORT LIST BY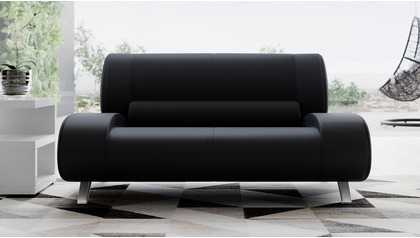 Suggestive of futuristic and mod designs from the past, the ultra luxurious Aspen love seat is the perfect fit for any contemporary home or office. The innovative design boasts sleek, simple, soft lines that maximize style and relaxation. It is available in your choice of bright white, jet black,…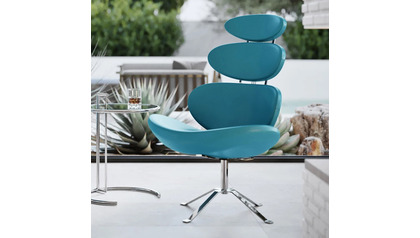 The Pebble faux leather chair was designed for people who love to be different. The funky modular design composed of four well padded cushions, held together by a metal spine, with curved seat and tall backrest, gives you the excellent support you need. Standing on chrome legs, the Pebble is bound…
…comes with plush cushions and a soft yet supportive tufted seat. The backrests lift up and back to make an extra deep seat. The armrests are on a ratcheting mechanism so you can bring them up or down depending on your mood. The love seat's low-rise design and discreet base almost make it look like…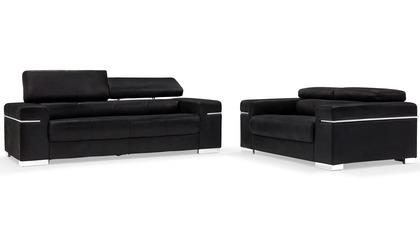 …adjustable headrests are on a multi-angle ratchet which can be set down for a low profile or up for better neck support. The sofa and love seat offer generous plush seating space and are a great example of contemporary form meeting modern function. Get the Angelo Sofa Set today for a bullet proof…
Relish the style and comfort this relaxing Della Sofa and Love-seat Set offers. Both offers a spacious seating with mid-profile cushioned backrests and lower armrests. The body is padded and upholstered in premium polyester chartreuse fabric and manufactured to last. The stitching is visible at the…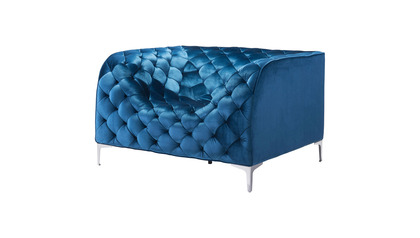 …and boxy, but you can settle in to read a book or have coffee in its luxurious padded seat, back, and armrests. Tufted for added style, this chair boasts of a resilient frame and low coated steel legs. Fall in love with the cozy style this arm chair provides. Pair with a white Art Deco coffee table.
Stainless steel is the most durable and easy to maintain metals around. The Paola is our only 100% adjustable barstool. Fall in love with the curvaceous seat and sturdy base.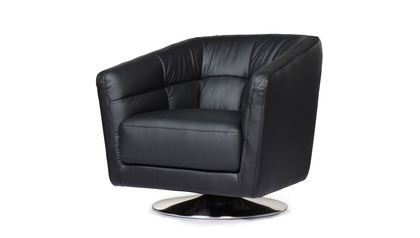 Crafted for the modern home or office, the Piper Armchair is a surefire winner when it comes to design. You and your guests will love sitting on its clean lines, plush padding, and smooth leather upholstery. Features high arm rests and sleek round swivel base.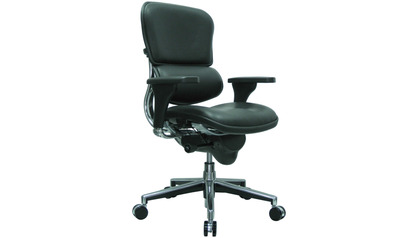 …to love in the ergonomic luxury of this Ergohuman Leather Swivel Chair. This modern chair features a wide curved back in dual panels padded and upholstered in premium leather, while the seat is curved for comfier feel. It comes with wide armrests chrome coating on legs and durable casters. The seat…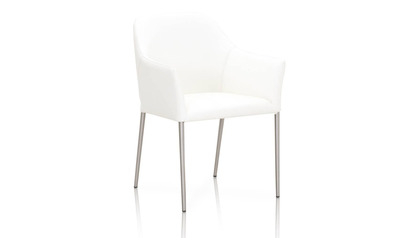 Complete your elegant dining room with this Esteli Dining Chair in luxurious top grain alabaster white leather. It features a lovely curved backrest and plush seat that exudes comfort each time you sit down to eat. It has a timeless wrap-around design on brushed stainless steel legs.
…steel hinges, kiln dried hardwood frame and high density foam. The sleeping area is equivalent to a full size bed. Clubber is perfect for smaller homes that have frequent overnight guests or if you just love lounging with extra room on movie night! Available in left and right configurations.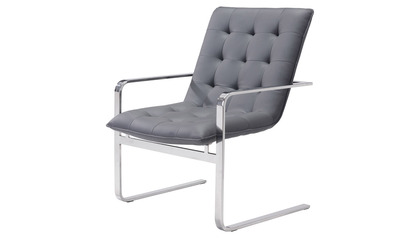 The Stefan Lounge Chair invites you to relax on its soft and luxuriously tufted seat and high back. One part industrial and the other part high end, this chair is padded and covered in smooth gray leatherette you'll love the moment you set eyes on it. It has gleaming steel armrests that extend to…
…the Beda Barstool stand out? Maybe it's the chair's nylon cords cleverly wrapped around the frame to make one of the most uniquely comfortable seat and backrest combo. Or maybe it's the slim steel frame that easily supports your weight and makes them easily stack-able. It's probably the overall…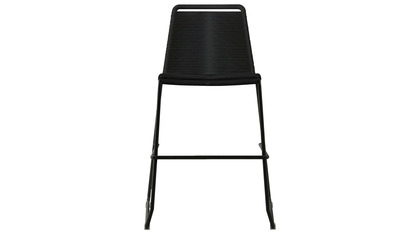 …the Beda Counter Stool stand out? Maybe it's the chair's nylon cords cleverly wrapped around the frame to make one of the most uniquely comfortable seat and backrest combo. Or maybe it's the slim steel frame that easily supports your weight and makes them easily stack-able. It's probably the overall…