Modern Dining Room Chairs
SHOWING
1 - 15
OF 15 PRODUCTS
SORT LIST BY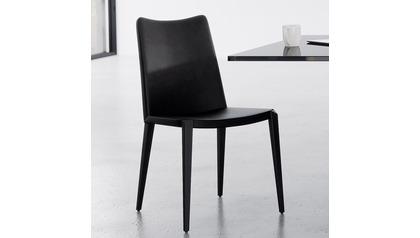 Looking to step up your dining room design game? Look no further than our Jordan Dining Chair. The Jordan features a simple silhouette with a lightly padded seat upholstered in black leatherette with a subtle rounded backrest for superior lumbar support. The angular legs are a matte black…
…yet sturdy polished stainless steel base that resembles a tree trunk. Pair it with coordinating modern dining chairs and a sleek white buffet for a simple, clean dining room. Let the Arbre Dining table take root in your home and grow into an attractive and modern focal point for family gatherings.
…Dining Chair exudes modern elegance in one glance. Upholstered using soft leatherette, this dining chair ensures seating comfort for your family or dinner guests. Brushed metal legs taper down to a pointed style, making this dining chair look sleeker than it already is. Collect a few of these chairs…
…tufting and a gently curving backrest for great lumbar support. The polished stainless steel legs are simple and sturdy while remaining thoroughly contemporary. With a slim and space-saving profile, the Tryton Dining Chair is a smart complement to any transitional or minimalist dining room.
…polished stainless steel tubular base with a cantilevered shape. The Dakota Dining Chair is a contemporary classic that's perfect for any stylish dining room. Pair it with a unique table with a shiny stainless steel base like our Grigio marble dining able to lend a sleek, modern look to any space.
…leatherette. The chair legs defy conventional design with the slimness, characterizing a modern aesthetic. The brilliant white color is perfect for contemporary apartments or traditional formal dining rooms. Pair this with a plain glass table or a beautiful mid-century style walnut dining table to…
…leaving a rhombus-shaped opening between the two. The Vilma will seat up to 8 guests comfortably and looks great paired with the clean lines of the Jordan Dining Chair and a simple buffet. Sleek and angular, the Vilma 82-inch Dining Table is one dining room centerpiece well worth the investment.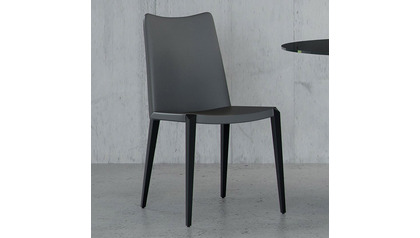 Looking to step up your dining room design game? Look no further than our Jordan Dining Chair. The Jordan features a simple silhouette with a lightly padded seat upholstered in dark gray leatherette with a subtle rounded backrest for superior lumbar support. The angular legs are a matte black…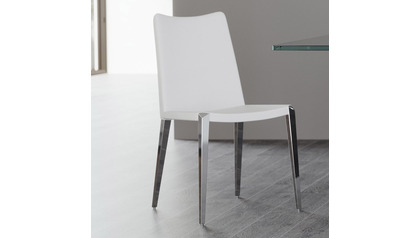 Looking to step up your dining room design game? Look no further than our Jordan Dining Chair. The Jordan features a simple silhouette with a lightly padded seat upholstered in white leatherette with a subtle rounded backrest for superior lumbar support. The angular legs are a shiny polished…
Looking to step up your dining room design game? Look no further than our Jordan Dining Chair. The Jordan features a simple silhouette with a lightly padded seat upholstered in white leatherette with a subtle rounded backrest for superior lumbar support. The angular legs are a sturdy brushed…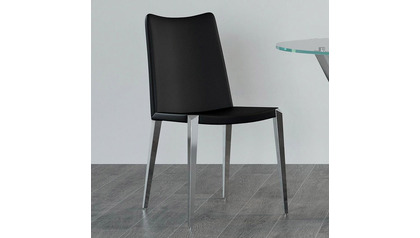 Looking to step up your dining room design game? Look no further than our Jordan Dining Chair. The Jordan features a simple silhouette with a lightly padded seat upholstered in black leatherette with a subtle rounded backrest for superior lumbar support. The angular legs are a shiny polished…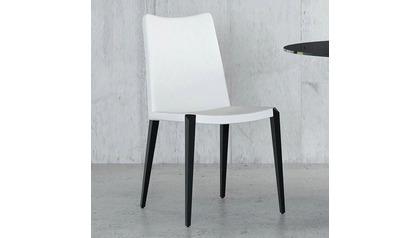 Looking to step up your dining room design game? Look no further than our Jordan Dining Chair. The Jordan features a simple silhouette with a lightly padded seat upholstered in white leatherette with a subtle rounded backrest for superior lumbar support. The angular legs are a matte black…
The Concha Chair is a contemporary dining or café chair, also cool as a guest chair in your living room or office and suitable for indoors. Composed of a metal base and seat hand-woven with solid vinyl cord. Available with white, chrome, copper or standard black frame. The galvanized steel is rust…

The Concha Chair is a contemporary dining or café chair, also cool as a guest chair in your living room or office and suitable for indoors. Composed of a metal base and seat hand-woven with solid vinyl cord. Available with white, chrome, copper or standard black frame. The galvanized steel is rust…
The Concha Chair is a contemporary dining or café chair, also cool as a guest chair in your living room or office and suitable for indoors and out. Composed of a metal base and seat hand-woven with solid vinyl cord. Available with white, chrome, copper or standard black frame. The galvanized steel…