Office Side Chair
SHOWING
1 - 11
OF 11 PRODUCTS
SORT LIST BY
The sleek and functional Medici contemporary accent chair can be used as an inviting side chair in your bedroom, home office, or as a beautiful statement piece in your living room. Featuring a rich black tufted aniline dyed top grain leather upholstery with a split leather match on the back and…
…under many lounge chair and sofa frames and over the armrest. This is perfect for reading, using a small laptop or iPad for work, and even eating a snack. Use the Luton Side Table as a functional piece on its own or complement it with other modern, eclectic pieces in your living or office space.

The sleek and functional Medici contemporary accent chair can be used as an inviting side chair in your bedroom, home office, or as a beautiful statement piece in your living room. Featuring a soft gray tufted aniline dyed top grain leather upholstery with a split leather match on the back and…
…Chair is the perfect fit for any contemporary home or office. The innovative design boasts sleek, simple, soft lines that maximize style and relaxation. It is available in your choice of bright white, jet black, taupe brown and light grey microfiber leather with a leatherette match on the sides and…
…seat of the Lithe instantly catches the eye, with high wings on either side the envelope your body and a wide supportive backrest you can easily sink into. Padded entirely in high-density foam, the modern Lithe Swivel Chair is comfortable and relaxing, making it ideal anywhere in the home or office!
Sit at the head of the house in the Renata Chair. The top grain leather upholstery with real split leather back and sides and black polished stainless steel legs make for an eye-catching chair that is as comfortable as it is appealing. You'll sink into luxurious bliss with the tub-style frame and…
…Swivel chair will make you feel like a high roller in your own home. With its classic lines and simple design, it can fit effortlessly into any room scheme. The expansive seat can accommodate all kinds of guests, and the top grain leather upholstery with real split leather back and sides makes for…
…Cafe Chair is a unique piece with a built-in clear tempered glass side table that can be on your right or left-hand side. Relax in style on the durable gray velvet fabric while you have a cup of coffee or tea. Great for your reading nook or even an accent chair in receptions and offices. The…
…Cafe Chair is a unique piece with a built-in clear tempered glass side table that can be on your right or left-hand side. Relax like royalty in the cocoon of plush red velvet fabric while you have a cup of coffee or tea. Great for your reading nook or even an accent chair in receptions and offices.…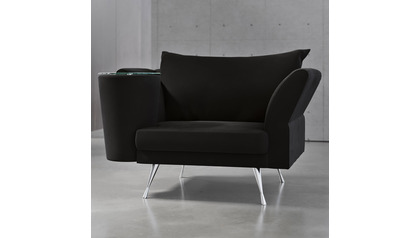 …Chair is a unique piece with a built-in clear tempered glass side table that can be on your right or left-hand side. Relax like royalty in the cocoon of plush black velvet fabric while you have a cup of coffee or tea. Great for your reading nook or even an accent chair in receptions and offices. The…
…comfort and cutting edge style? Our reclining Reno Chair combines both to produce the ultimate lounging experience. This is not your Grandpa's recliner! Resplendent in top grain black leather on top with gorgeous contemporary side tufting in matching real split leather and modern polished…