Orange Leather Chair
SHOWING
1 - 15
OF 15 PRODUCTS
SORT LIST BY
…Laurent Swivel chair will make you feel like a high roller in your own home. With its classic lines and simple design, it can fit effortlessly into any room scheme. The expansive seat can accommodate all kinds of guests, and the top grain leather upholstery with split leather back and sides makes…
…stainless steel. With leather strips accenting its back, the Catalonia Lounge Chair is a visual treat from any angle. Pair it with the matching ottoman to bring your relaxation and living space to the next level. Available in your choice of black, white, yellow, or orange. This product is suitable…
…Swivel Chair delivers social poise and grace in refined abundance. Soft high-density foam seating combines with premium contrast off-white double top-stitching and top grain leather, creating an indulgent retreat. Built on top of a sturdy kiln-dried hardwood frame, the rich, burnt orange color will…
The Noah Dining Chair is something a modern home needs to have. This mid-profile chair features a rectangular backrest slightly curved for your comfort and a spacious seat covered in premium orange leatherette. The chair legs defy conventional design with the slimness, characterizing a modern…
…its' textured leatherette upholstery in glitzy orange, our Mesa Dining Chair will have all of your dinner guests speechless. So dramatically curvaceous and stunning from the sturdy chrome iron base to the comfortable high back. Pair your mesa chairs with a sleek marble or glass top dining table with…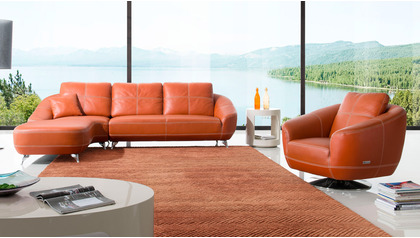 …and genuine top grain Italian leather, creating an indulgent retreat. Built on top of a sturdy kiln-dried hardwood frame, the rich, burnt orange color will warm any living room up with legendary results. Top it off with sculptural chrome legs and a swiveling accent chair and you have a spectacular…
…style help you create a comfortable workspace, placing your office on the cutting edge of success. Add the matching guests' chairs for a perfect corporate combination! Available in black, dark chocolate brown, cream, off-white, and orange leather. The suggested weight capacity is 418 pounds.
…chair. This prevents the rocking chair effect and helps keep your feet on the ground while still increasing blood circulation and better spinal alignment. With leather and movements so smooth it will have you looking forward to working at the office or at home. Pair it with the matching guest chair…

The Covey Guest Chair will make any space it occupies the go-to-meeting spot. With thick top grain leather and medium density foam, the discomfort will not be a topic on the agenda. This chair is the perfect accent in a home or corporate office that will draw attention to your outstanding taste.

Sitting in the Tampa Swivel Chair after a long day feels like a gentle hug from an old friend. Its comfort is plush and effortless but sturdy and always there to support you. Choose between soft orange or black top-grain leather. The well padded armrests and the wide seat will envelop you in…
…and the top grain leather upholstery with split leather back and sides is sure to be a standout in your home. Take a breather with the power reclining features, handily placed on the side of the chair for quick accessibility. Available in orange, slate, black, and, white, this chair will transform…
The Ritz Swivel Chair will astound you with the level of style and class this chair brings to your space. As the ace of chairs, the top grain leather upholstery with split leather back and sides, quality materials and superb construction are sure to be a showstopper. The polished stainless steel…
…grain leather upholstery with split leather back and sides and black polished stainless steel legs make for an eye-catching chair that is as comfortable as it is appealing. You'll sink into luxurious bliss with the tub-style frame and low back. Available in Dark Teal, Black, Slate, Orange, Silver…
…balance of contemporary and retro styling, our Lucy Swivel Chair delivers social poise and grace in refined abundance. Soft high-density foam seating combines with premium contrast off-white double top-stitching and top grain leather, creating an indulgent retreat. Built on top of a sturdy…
…grain leather and polished stainless steel, this ottoman exudes classic luxury and a cutting-edge aesthetic. Button tufting upholstery offers comfort with a traditional flair. The shiny polished legs intersect and terminate in a subtle curve. Add the Catalonia Ottoman to its' matching lounge chair…