Red End Table
SHOWING
1 - 8
OF 8 PRODUCTS
SORT LIST BY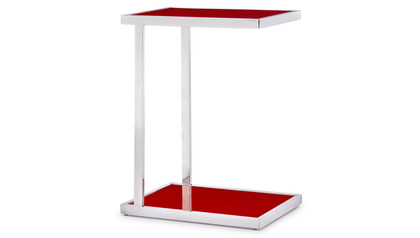 The Luton Side Table is a simple yet versatile side table. This straight forward design features opaque black or red tempered glass on the top and bottom shelf surrounded by a sturdy and well balanced polished stainless steel frame. Its c-shaped form and minimal base allow it to be nested under many…

…this table is a portrait of contrasts. The criss-crossing steel base also counters the wide round top. Modern geometrical forms and an electrifying color scheme succeed in making the Carmesi Coffee Table a complete showstopper. Use it on its' own as a pop of color or purchase the matching end table…
…for the Radinka side tables! Their adjustable height feature allow them to be placed almost anywhere! It features a strong, tempered glass base and top in a rainbow of colors. The stainless steel column is height adjustable and the simple, modern silhouette makes this table at home in any room.

An overall geometric design and bold color choice make the Carmesi End Table more than just a modern piece of accent furniture. A red opaque tempered glass top contrasts seductively with the rest of its polished stainless steel structure. The base is comprised of a flat L-shape of steel overlaid…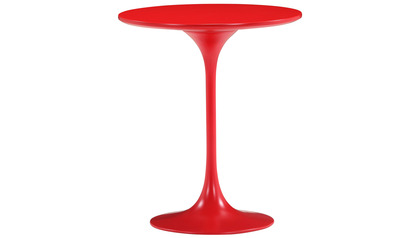 Timeless and classic, the Teagan side table will add contemporary flare to any room. The top is glossy painted MDF and the base is glossy coated fiberglass.
The possibilities are endless with this hexagon Canan Small Occasional Table. Its unique shape is a departure from conventional design and its two-tone construction ensures a stylish vibe to any room. It has a smooth top and side panels giving off an elegant contemporary feel. Clean it easily with a…

The possibilities are endless with this hexagon Canan Medium Occasional Table. Its unique shape is a departure from conventional design and its two-tone construction ensures a stylish vibe to any room. It has a smooth top and side panels giving off an elegant contemporary feel. Clean it easily with…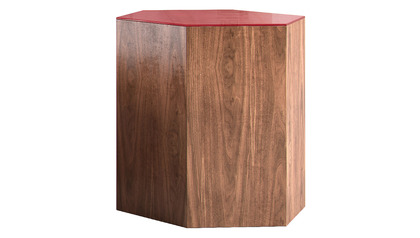 The possibilities are endless with this hexagon Canan Large Occasional Table. Its unique shape is a departure from conventional design and its two-tone construction ensures a stylish vibe to any room. It has a smooth top and side panels giving off an elegant contemporary feel. Clean it easily with a…