Red Leather Bar Stools
SHOWING
1 - 12
OF 12 PRODUCTS
SORT LIST BY
The Lynx Counter Stool is a thoroughly modern piece with a sleek profile. The seat is padded with high-density foam and covered in soft faux leather for superior relaxation and easy cleaning. This extremely comfortable counter stool has a supportive backrest and a seat cushion that is slightly…
The Lynx Bar Stool is a thoroughly modern piece with a sleek profile. The seat is padded with high-density foam and covered in soft faux leather for superior relaxation and easy cleaning. This extremely comfortable bar stool has a supportive backrest and a seat cushion that is slightly elevated in…
…of the base to protect your hardwood floors. Extravagance never felt so good as with the Lush Bar Stool. (If you prefer a slightly lower profile and wider seat, check out the best-selling Lattice Bar Stool that also comes in a variety of colors and base options). This product is suitable for indoor…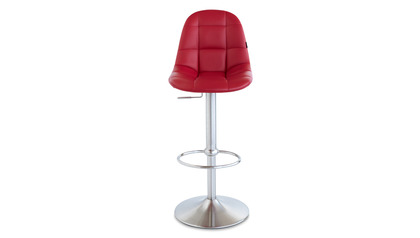 …this stool the perfect fit for any countertop or bar height table. The sleek brushed stainless steel trumpet base provides excellent support while being a great match to stainless steel kitchen appliances. (But if chrome is more your style, check out Rochelle's brother, the Romy Bar Stool!) Also…
…the Jazz is the perfect fit for any countertop or bar table. The sleek brushed stainless steel trumpet base provides excellent support while being a great match to stainless kitchen appliances. Add some harmony to your home with the Jazz Bar Stool today! Also available with a round flat base. This…

The Lattice Bar Stool is a contemporary masterpiece. It features a wide and accommodating seat with a medium-height backrest for advanced support and relaxation. The seat frame is well padded with high-density foam and upholstered in premium soft leatherette with channel tufting. The superbly…

Looking for a bar stool that will be the envy of your friends and family? The Coveteur Bar Stool offers a subtly curved backrest and seat whose ergonomic comfort is sure to make your guests jealous. It features a supportive high backrest, a wide seat that swivels 360 degrees freely and a footrest…

…by a chrome column and trumpet base that swivels 360 degrees freely and includes a footrest that follows you all the way around. A gas lift adjusts the height and makes this stool the perfect fit for any countertop or bar height table. Celebrate in style and elegance with the Ellery Bar Stool.
The Ego Bar Stool is a contemporary design that will enhance any environment. Highlighting form and function, the Ego includes a supportive backrest and upholstered armrests. It features thick tubular seat cushions made of high density foam and upholstered in premium faux leatherette. This is…

…With the 360 degree swivel and a gas lift that adjusts the height, the Crescent is the perfect fit for any countertop or bar table. Contemporary styles may wax and wane but the Crescent Bar Stool will always be a beacon of comfort in the night. This product is suitable for indoor use only.
The fabulous Mimi Bar Stool is a design that brings the best of both modern and retro styling together. The gently curved low-back seat frame is well padded with high-density foam and upholstered in premium, soft leatherette. The wonderfully comfortable seat is supported by a brushed stainless steel…
…lift adjusts the height and makes this stool the perfect fit for any countertop or bar height table. Extravagance never felt so good as with the Lush Bar Stool. (If you prefer a slightly lower profile and wider seat, check out the best-selling Lattice Bar Stool that also comes in a variety of colors…