Red Side Table
SHOWING
1 - 13
OF 13 PRODUCTS
SORT LIST BY
…for the Radinka side tables! Their adjustable height feature allow them to be placed almost anywhere! It features a strong, tempered glass base and top in a rainbow of colors. The stainless steel column is height adjustable and the simple, modern silhouette makes this table at home in any room.
The Luton Side Table is a simple yet versatile side table. This straight forward design features opaque black or red tempered glass on the top and bottom shelf surrounded by a sturdy and well balanced polished stainless steel frame. Its c-shaped form and minimal base allow it to be nested under many…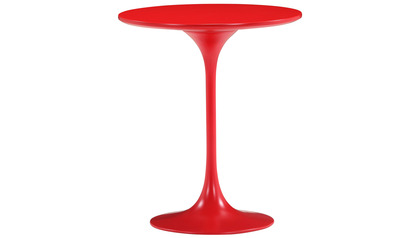 Timeless and classic, the Teagan side table will add contemporary flare to any room. The top is glossy painted MDF and the base is glossy coated fiberglass.
The Cafe is a unique piece with built in clear tempered glass side table that can be on your right or left hand side. Relax like royalty in the cocoon of plush red velvet fabric while you have a cup of coffee or tea. Great for your reading nook or even a accent chair in receptions and offices. The…
The possibilities are endless with this hexagon Canan Small Occasional Table. Its unique shape is a departure from conventional design and its two-tone construction ensures a stylish vibe to any room. It has a smooth top and side panels giving off an elegant contemporary feel. Clean it easily with a…

The possibilities are endless with this hexagon Canan Medium Occasional Table. Its unique shape is a departure from conventional design and its two-tone construction ensures a stylish vibe to any room. It has a smooth top and side panels giving off an elegant contemporary feel. Clean it easily with…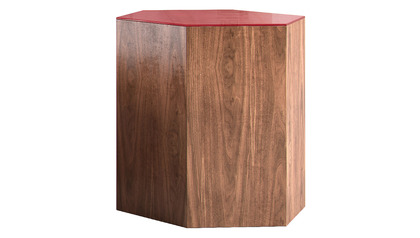 The possibilities are endless with this hexagon Canan Large Occasional Table. Its unique shape is a departure from conventional design and its two-tone construction ensures a stylish vibe to any room. It has a smooth top and side panels giving off an elegant contemporary feel. Clean it easily with a…

The Zica table - with tempered glass top is a contemporary, small, circular side table suitable for indoors. Composed of a tripod metal base and table-top woven with vinyl cord. Coordinates well with our many vinyl cord chairs. The galvanized steel is rust resistant and the very durable yet…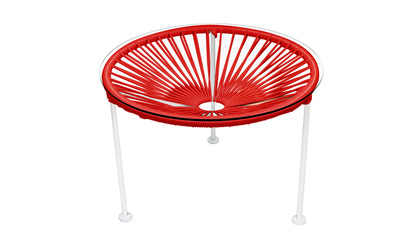 The Zica Table with tempered glass top is a contemporary, small, circular side table suitable for indoors and out. Composed of a tripod metal base and table-top woven with vinyl cord. Coordinates well with our many vinyl cord chairs. The galvanized steel is rust resistant and the very durable yet…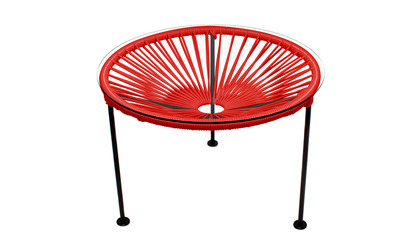 The Zica Table with tempered glass top is a contemporary, small, circular side table suitable for indoors and out. Composed of a tripod metal base and table-top woven with vinyl cord. Coordinates well with our many vinyl cord chairs. The galvanized steel is rust resistant and the very durable yet…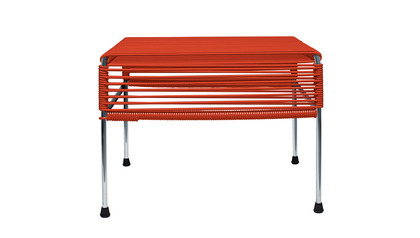 …ottoman or side table suitable for indoors. Composed of a metal base woven with vinyl cord. Coordinates well with our many vinyl cord chairs. The galvanized steel is rust resistant and the very durable yet flexible, UV protected vinyl will stay colorfast for years. This table is weatherproof,…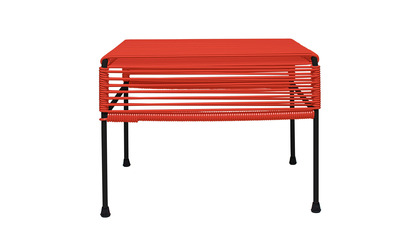 …or side table suitable for indoors and out. Composed of a metal base woven with vinyl cord. Coordinates well with our many vinyl cord chairs. The galvanized steel is rust resistant and the very durable yet flexible, UV protected vinyl will stay colorfast for years. This table is weatherproof,…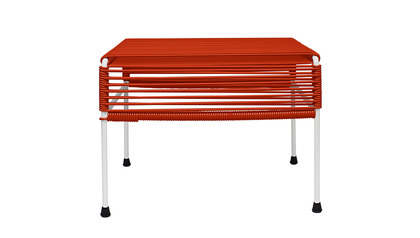 …or side table suitable for indoors and out. Composed of a metal base woven with vinyl cord. Coordinates well with our many vinyl cord chairs. The galvanized steel is rust resistant and the very durable yet flexible, UV protected vinyl will stay colorfast for years. This table is weatherproof,…