Round Coffee Coffee
SHOWING
1 - 13
OF 13 PRODUCTS
SORT LIST BY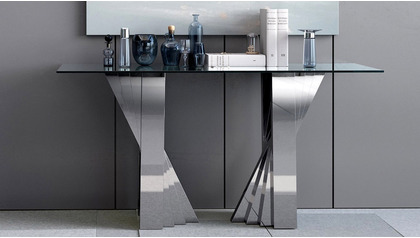 …strips of polished stainless steel twisting and turning. This zig-zag shaped base supports a thick piece of round clear tempered glass. Matching pieces are available including a coffee table and two larger dining tables as well. The Falcone Console Table is a visually stunning table that is sure…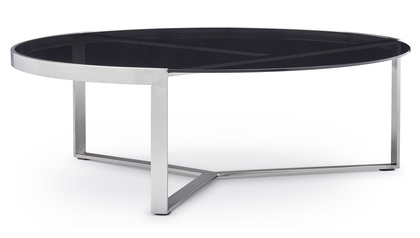 Straight lines and curvi-linear forms make the Corbe Coffee Table an easy example of versatility in modern design. Its' round smoked black tempered glass top is enclosed halfway around by brushed stainless steel framing, lending it an unfinished but avant garde look. The glass rests securely atop…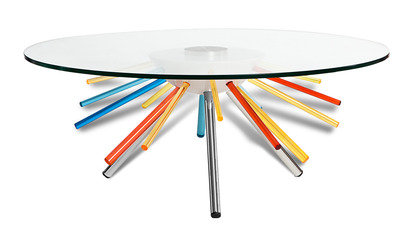 Who says a coffee table can't create a buzz? The Retro contemporary coffee table is a series of multicolored cylinders finished with a simple chrome base and round tempered glass table top. The finished product creates the ultimate unique statement piece, making it perfect for home or office.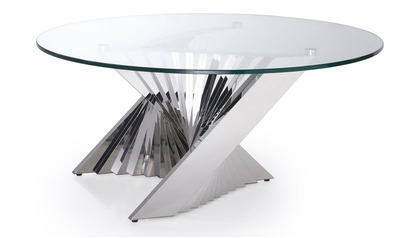 The Falcone Coffee Table is a mind-bending piece that looks different from every angle. The meticulous design resembles folded paper or with its' fan-like strips of polished stainless steel twisting and turning. This zig-zag shaped base supports a thick piece of round clear tempered glass. Matching…
…art-deco vogue, the Spira Coffee Table is a modern design marvel. Its streamlined structure is crafted from polished stainless steel, while a black opaque glass top sets a unique contrast. Designed to be arresting and versatile at the same time, this unassuming round table separates into five…
…living or lounging space with the Carmesi Coffee Table. Combining the warmth of red tempered glass with the cool luster of polished stainless steel, this table is a portrait of contrasts. The criss-crossing steel base also counters the wide round top. Modern geometrical forms and an electrifying…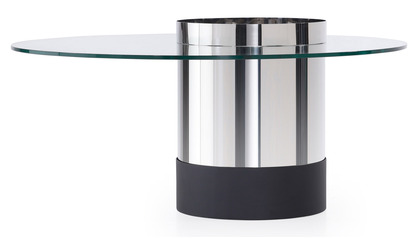 Sleek, modern design will orbit into view with our Contour Coffee Table. A beautiful mix of concentric circles, the Contour features a wide, offset round top of thick tempered glass. This is bisected by a column of stainless steel with a ribbon of matte black steel at the base. The top of the column…
Create a well-rounded living space with the Globus Coffee Table. Peer through the circular glass table top to the seemingly floating circular shelf below nestled between two overlapping U-Shaped bases. Add this unique piece to your home today!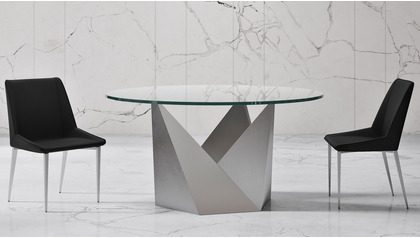 There's more to the Trimont 59 Inch Round Dining Table than meets the eye, especially with its' unique sculptural base and distinct blend of angles, lines, and curves. A wide clear tempered glass top balances on a three-pointed steel pyramidal base which shifts in form, depending on your viewpoint.…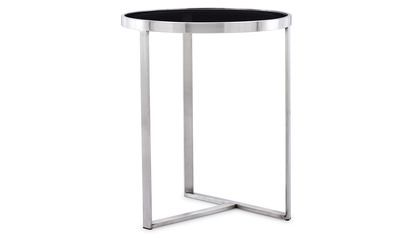 …only by its interesting base structure. Three straight steel legs meet at the bottom to in an unexpected T-shape that contrasts straight lines and with the floating round top. Add the Corbe End Table as a complement to the Corbe Coffee Table or have it as stand-alone with a chic lounge chair.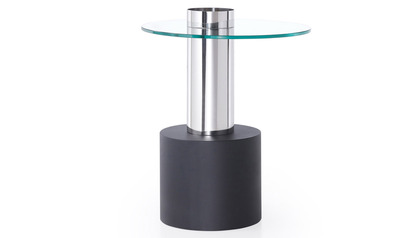 …round top of thick tempered glass. This is intersected by a column of polished stainless steel with a wider base of matte black steel at the bottom. The top of the column pierces the glass and forms a miniature tray for holding everyday items like coasters. Pair it with the matching coffee table to…
With a rounded triangular aesthetic, the Stier Side Table provides ample space to place your drink and/or a small lamp. The guitar pick shaped top in wood veneer has a delicately curved bevel edge that enhances the simple shape. This is held up by three minimalist steel pillars. Below, a bottom…
…visual interest when viewed at an angle. With the T-shaped base contrasting the round top, the Carmesi End Table is a study in sharp lines, angles and curves. Pair it with the equally avant garde coffee table to complete a bold space or use it as a stand-alone pop of color in any contemporary…