Round End Table
SHOWING
1 - 15
OF 15 PRODUCTS
SORT LIST BY
Sleek, modern design will orbit into view with our Contour End Table. A beautiful mix of concentric circles, the Contour features an off-kilter round top of thick tempered glass. This is intersected by a column of polished stainless steel with a wider base of matte black steel at the bottom. The top…
…depending on your viewpoint. The brushed stainless steel softens the look of the striking angular shapes. Pair the Trimont Coffee Table with the matching console and end table in any modern living space for a dazzling piece that inspires introspection and engaging dinner conversation! Comfortably…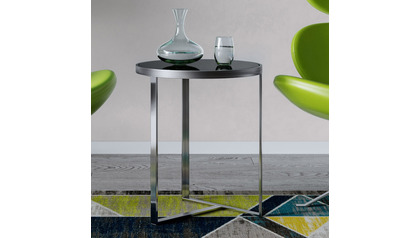 The Corbe End Table is a modern, edgy take on the simple round accent table. Constructed using smoky black tempered glass and brushed stainless steel, it exhibits a clean sophistication that is matched only by its interesting base structure. Three straight steel legs meet at the bottom in an…
…space with the Aileen Side Table. Constructed from clear tempered glass and your choice of polished or brushed stainless steel, this side table channels simplicity, durability, and innovative sophistication in one piece. Round stainless steel tubing encloses the glass table top and is also echoed in…
…the Omir Table Lamp. The regular bell-shaped shade is made of faux silk, while the transparent glass base features a softly rounded bottom that's reminiscent of 1920s glam combined with Moroccan elements. It comes with a stable metal base. Set it on top of a small dresser or a glass end table beside…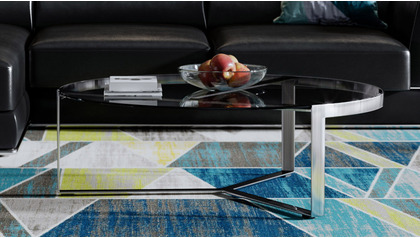 …the legs converge equally in the center like slices into a pie. Clean, functional, and fun, the Corbe Coffee Table is clearly a contemporary showpiece from top to bottom. Pair it with its' matching end table and a couple of rounded lounge chairs for a curvy vignette you'll be sure to stick around.
…visual interest when viewed at an angle. With the T-shaped base contrasting the round top, the Carmesi End Table is a study in sharp lines, angles and curves. Pair it with the equally avant garde coffee table to complete a bold space or use it as a stand-alone pop of color in any contemporary…
The Onyx Accent Table will bring any room alive with its disco flare. The two soft close drawers are accented with round mirrors encompassing a retro style. Having a painted black background adds depth which creates a different view from every angle. Complete your look with the Onyx Accent Chest.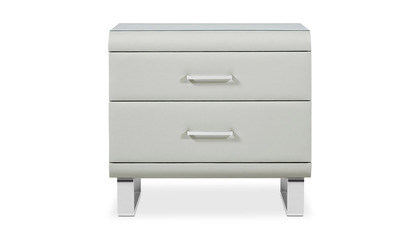 Utilitarian doesn't have to mean boring, especially when you consider the Siva Accent Table. The light grey leatherette accent chest features rounded front and back edges with an inset top of tempered glass to protect the surface. It features two drawers of varied sizes with stainless steel handles…
The Leda accent table makes your modern space a tad more interesting with its unique curved design. Two spacious drawers help you keep some clutter out of sight, while the top portion provides a place for a small lamp, nightly reading or of course your cell phone. The softly-rounded side panels…
…this table is a portrait of contrasts. The crisscrossing steel base also counters the wide round top. Modern geometrical forms and an electrifying color scheme succeed in making the Carmesi Coffee Table a complete showstopper. Use it on its' own as a pop of color or purchase the matching end table…
…offset round top of thick tempered glass. This is bisected by a column of stainless steel with a ribbon of matte black steel at the base. The top of the column pierces the glass and forms a tray for corralling everyday items like coasters or remotes. Pair it with the matching end table to create…
The Vetro Accent Table is perfect for completing a minimalistic space with the soft rounded sides and modern design. The soft closing drawer with stainless-steel hardware and matching base allows for hidden storage while the top is perfect for a lamp and book. Featuring white leatherette, complete…
…the Omir Table Lamp. The regular bell-shaped shade is made of faux silk, while the transparent glass base features a softly rounded bottom that's reminiscent of 1920s glam combined with Moroccan elements. It comes with a stable metal base. Set it on top of a small dresser or a glass end table beside…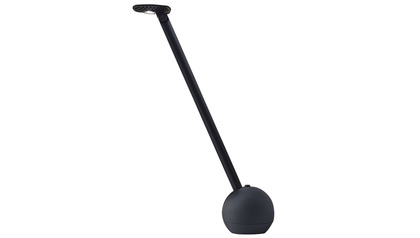 …difference to your comfort while working, reading, or relaxing at the end of the day. The Kiu LED Desk Lamp provides not only comfortable and soft light but a modern minimalist design with a compact head and round base. Each end is connected with a slim neck and features a one-touch switch that you…