Round Glass Top Dining Table
SHOWING
1 - 10
OF 10 PRODUCTS
SORT LIST BY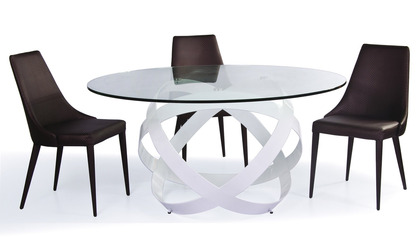 …Mambo dining table boasts a solid 59 inch clear glass top, supported from below by several matte white ribbons of quality steel. Sure to garner an eyeful at your next social function, the Mambo will never disappoint! This dining set also includes your choice of four, five or six of the Mambo Dining…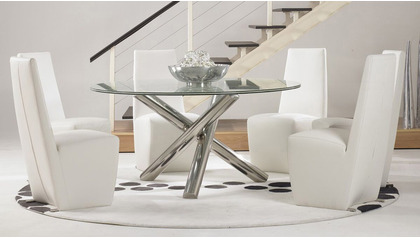 You are sure to be impressed with this Crackled Dining Table Top. This large and wide round-shaped top features a cracked finish, perfect for those who want a distinct style. Perfect for stainless steel legs and can be easily cleaned with a soft moist cloth to prevent scratches.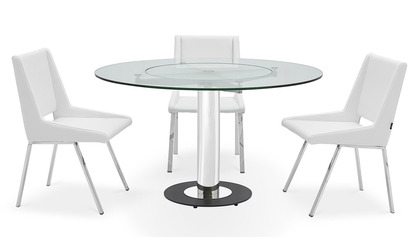 …features cool contemporary design details that will surprise and impress all your guests! The clean, futuristic design of our glass top Fiore contemporary dining table makes it ideal for a home dinette or even an office break room. Moreover, the durable polished stainless steel pedestal grounded…
If you're bored with your regular table or just want to replace a cracked one, then the Clear 60" Round Dining Table Top would be a great choice. Set this sleek and clear glass table top on an elegant drum-shaped chrome base or a thick marble base.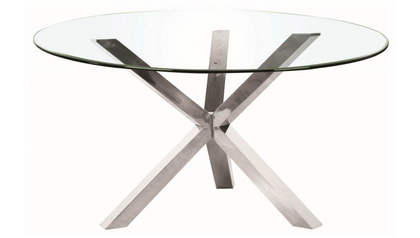 The Cointet Dining Table is an essential for the modern home with its classic stainless steel construction. The expansive 72" size is available with a thick clear glass top. The larger size allows it to seat up to eight guests easily.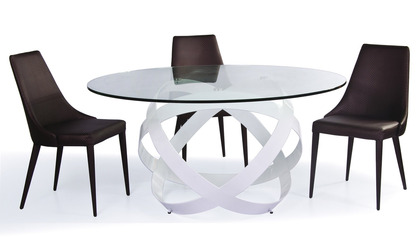 Ready for a whirlwind of eye catching movement? The Mambo dining table boasts a solid clear 59 inch glass top supported from below by several matte white ribbons of quality steel. Sure to garner an eyeful at your next social function, the Mambo will never disappoint!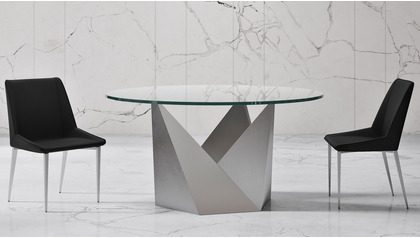 There's more to the Trimont 59 Inch Round Dining Table than meets the eye, especially with its' unique sculptural base and distinct blend of angles, lines, and curves. A wide clear tempered glass top balances on a three-pointed steel pyramidal base which shifts in form, depending on your viewpoint.…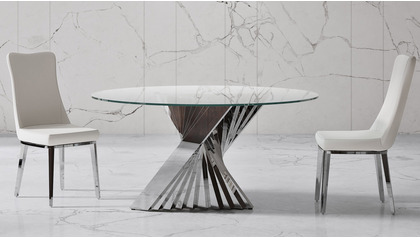 …shaped base supports an over-sized round clear tempered glass top. Matching pieces are available including a console table that works great as a buffet when needed. Plus it comfortably seats 6 guests! The Falcone Dining Table is a visually stunning table that will turn heads at your next family…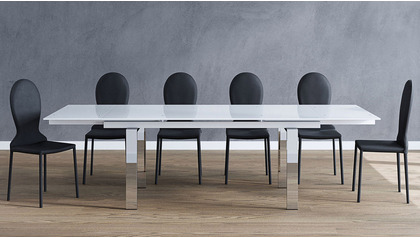 …legs lift a dual-leaf white glass table to new heights of sophistication. So easy to extend, one person can effortlessly operate it. The Montez Dining Table creates a unique and stunning focal point in your dining room. The rectangular glass table sits on top of four polished polished stainless…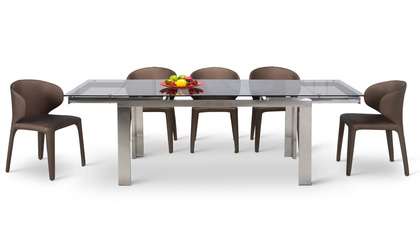 …smoked glass table top to new heights of sophistication. So easy to extend, one person can effortlessly operate it. This dining set includes your choice of siz, eight or ten of our Enzo Dining Chairs. We can't say enough about the retro/modern cafe-inspired Enzo Dining Chair. This rounded back,…