Square Bar Stool
SHOWING
1 - 12
OF 12 PRODUCTS
SORT LIST BY
…top or bar table. The flat square base version is about 10 pounds heavier than the standard trumpet base, which gives added stability. Best of all, it features felted bumpers on the bottom of the base to protect your hardwood floors. Extravagance never felt so good as with the Lush Bar Stool. (If…
…a triangular footrest that follows you all the way around. A gas lift adjusts the height and makes this stool the perfect fit for any counter top or bar height table. The flat square base version of the Lattice is made of solid stainless steel and thus about 10 pounds heavier than the standard…
Your home is incomplete without this Freya Bar Stool with low back and square seat. The seat is balanced on angled steel legs with footrest and rubber buffer to prevent scratches on the floor whenever you move this stool. Ideal for indoor or outdoor use as it is made from resilient materials that's…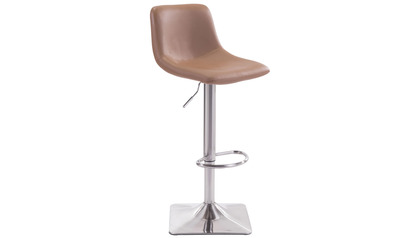 The Candra Bar Stool evokes a stylish mid-century vibe with its low backrest with a concave center and square seat safely perched on top of a sleek stainless steel pole. Sit on this stool minus the hassle with its strong footrest and be amazed with its stable square shaped steel based. Polished to a…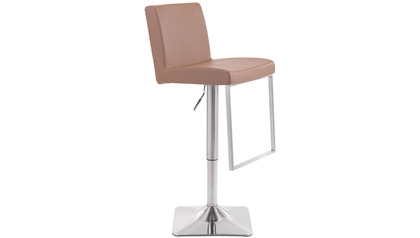 The Palika Bar Stool offers a unique approach to design whether it's for commercial or home use. It has a low backrest and square seat covered in premium leatherette and supported by a gleaming height-adjustable pole. It comes with a square-shaped footrest and softly curving base in similar shape.…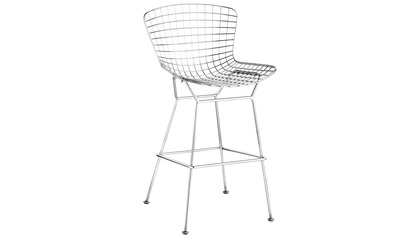 Go for stylish versatility with the 2-Piece Jenson Bar Stool Set. Designed for high end style, this unique stool features woven wires to form a low backrest and seat in grid pattern. Supported by durable steel frame and legs with slim square footrest. Ideal for indoor or outdoor use.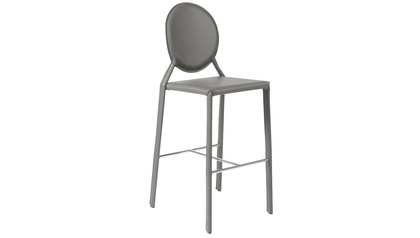 The Leon Bar Stool (Set of 2) is the perfect piece of furniture for a trendy bar aimed for the young and hip. It features a low profile backrest in the shape of a slightly curved disk and a simple square seat supported by long slim legs with a slim metal footrest. Covered in smooth and supple…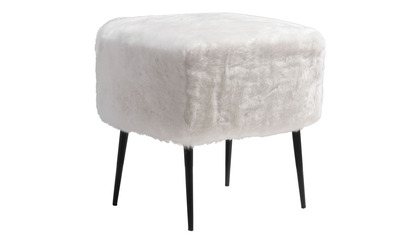 The Sandrine Stool is a multi-functional piece of furniture fit for luxury homes everywhere. The square-shaped top is thick and soft, while a plush faux fur upholstery covers its exterior. Slim, flared black legs complete this chic stool. Perfect accent ottoman or chair for a vanity.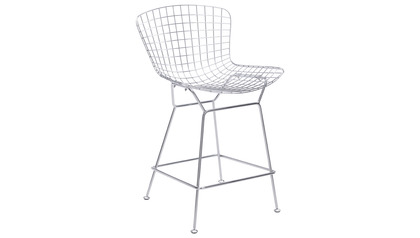 …than the bar stool yet just as chic, the 2-Piece Jenson Counter Stool Set is a great option for your home. Designed for high end style, this unique stool features woven wires to form a low, flared backrest and seat in grid pattern. Supported by durable steel frame and legs with slim square footrest.…
The 2-Piece Jadrien Counter Stool Set is a practical, no-nonsense addition to your kitchen with its minimalist design. Set on top of the strong frame and tall slim legs is a padded square seat plus low backrest in similar shape. Slim, H-shaped footrests allows you to sit on this high chair minus the…
…Counter Stool. It features a square backrest with tapered top and perfectly complemented with a padded seat upholstered in premium supple leather. The U-shaped chrome base defies expectations and comes with a slim bar footrest. Available in sets of 2. Matching dining chairs and bar stools available…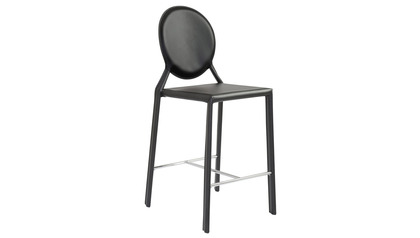 The overall design of the Leon Counter Stool (Set of 2) makes it an inviting piece that evokes lazy Saturday brunches at home or good times with friends. It features a low profile backrest in the shape of a slightly curved disk and a simple square seat supported by long slim legs with a slim metal…