Taupe Dining Set
SHOWING
1 - 7
OF 7 PRODUCTS
SORT LIST BY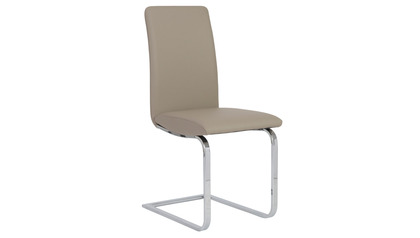 …complicated, which is why the Julieta Dining Chair (Set of 2) is perfect for the modern dining room or restaurant. It features a straight and high backrest, plush seat, and angled sleek base. Make your family and guests feel comfortable as you dine together while seated on the Julieta Dining Chair.
…structure of a wood chair and unique contemporary design, the Novo Dining Chair is an ispiring piece. This chair is suitable for both indoor and outdoor using, making it not ony beautiful but functional as well. Novo is stackable and made from 100% recyclable material. Chair comes in a set of 4.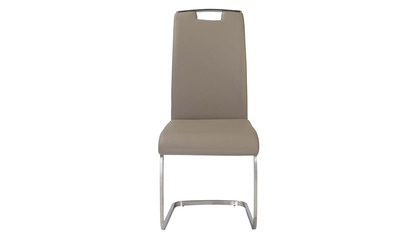 …The seat and back are upholstered with premium foam and soft leatherette in grey, taupe or white. The top portion is outfitted with a simple slot handle so you can easily move the chair wherever you want. Ideal for home or office use. Suggested weight capacity is 250 pounds. Sold in sets of 4.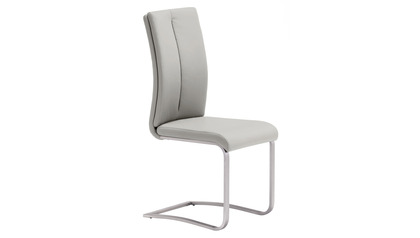 Balance and streamlined design make up the Raden Dining Chair. It features a high profile backrest slightly curved at the middle and a wide seat that offers support to the back of the knees. Set on a durable frame and L-shaped metal base that offers stability and balance. Padded so you and your…
…a handy slot on top so you can move the chair easily from one room to another. The back and seat are upholstered in premium foam and soft leatherette, while the base is made of quality brushed stainless steel. Ideal for home or office use. Sold in sets of 2. Suggested seat capacity is 250 pounds.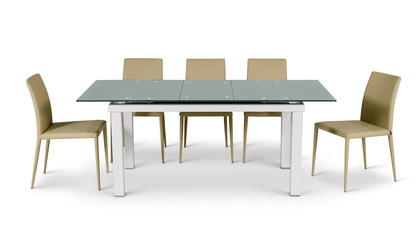 …and reflects the modern vision of simple, yet amazing versatility. Sturdy white metal legs support the Alanzo's beautiful glass top. Seats up to eight comfortably when fully extended to 75" long. This set includes 6 modern Alanzo Dining Chairs that are beautifully upholstered in taupe leatherette.
…with high quality leatherette for easy cleaning and includes unique polished tubular stainless steel legs on the back. Available in your choice of Black, Brown, White, Cream, Dark Grey, Taupe, Red and Dark Blue. There's a perfect color for every setting with the Boston dining chair collection.