White Headboard
SHOWING
1 - 12
OF 12 PRODUCTS
SORT LIST BY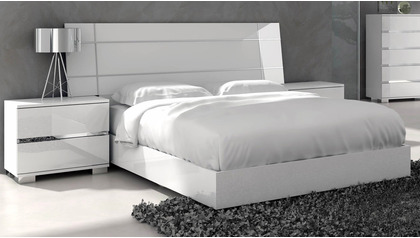 Fall asleep easily on this Corbusier Bed. This low rise, box-shaped bed features high and wide headboard coated in high gloss white lacquer with metal trim (resin with anti-rust chrome foil) in grid shape. This stylish bed boasts of a modern Italian design coupled with a zen-like simplicity for a…
Elegant and timeless, the Reanna Tufted Headboard is a welcome addition to your stylish bedroom. Transform your sanctuary with its soft, straight lines and simple button tufting lined up in neat rows across its padded surface. It is covered in premium fabric that can be easily spot cleaned from time…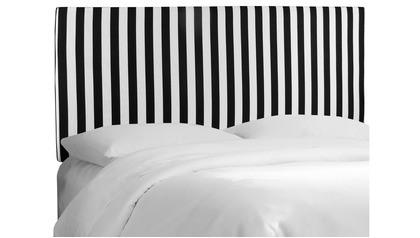 Add a pop of bright color to your room with the Tiana Upholstered Headboard. This vibrant headboard features straight lines and soft corners made more unique with the vivid colors printed on its surface. The solid wood frame is covered in soft padding and high-quality fabric on top. Prop a pillow on…


…edges that will cradle your mattress. The bright white genuine leather headboard is tilted at a precise ergonomic angle so you can lean on it comfortably which is perfect for reading in bed before you sleep. Pair it with one of our matching white leatherette nightstands or for something a little…

…design like our Hera Platform Bed. From the detailed brushed stainless steel feet and side rail accents to her contemporary bright white genuine leather adjustable headboard and matching leatherette sides, Hera will reign over your bedroom like a Greek goddess and make all of your design dreams come…

…addition to your quiet sanctuary. The curved headboard is upholstered in a bright white microfiber leather and features unique black stitching details on the edges. The back, side rails, and footboard are covered in a matching high-quality white leatherette. The platform style bed includes a…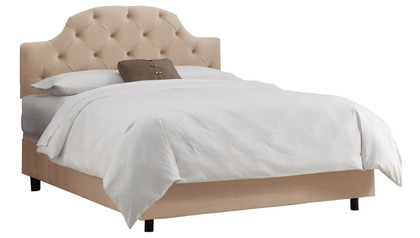 …Making it stand out is the arched camelback headboard with diamond button tufts, padded and covered in smooth fabric. This wide bed comes with short legs and durable frame so kids can use it for many years. Headboard can be spot cleaned. Place simple white end tables beside this bed for a functional…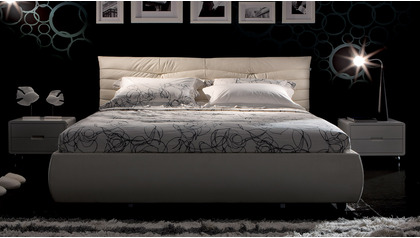 Delightfully tufted contour lines decorate the genuine leather match headboard of our Everest collection. Stately, yet progressive, styling and clean simplicity provide you with one of the most versatile beds available today.
…design is simple yet unforgettable with button tufting lined up in neat little rows and spacious bed frame with stubby legs underneath. The headboard is padded for added comfort as you lean back on it and is covered with durable fabric. Easy to assemble and spot clean to keep it free from smudges.…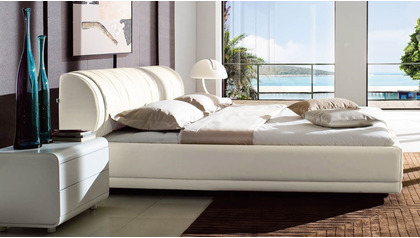 …Italian leather curved headboard brings warmth and quiet sophistication to any bedroom. The smooth-action durable gas lift mechanism provides quick, convenient storage for small or large bedrooms. No box spring needed and mattress sold separately. Includes Free White Glove Shipping and Assembly.
With its' exquisite curving forms and plush leather headboard pillows, this truly is the "Cadillac" of beds! Sumptuous matching pillows in ivory genuine Italian leather allow you to sit up and enjoy a great novel or a comfortable breakfast in bed. The rest of the frame is upholstered in a matching…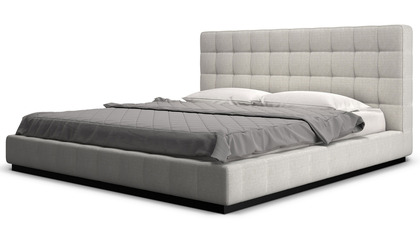 Symmetry exemplifies the Verona bed with its seamless square tufted moonbeam fabric upholstery covering headboard to frame. It is supported by a slightly raised hidden platform that gives the appearance of floating just above the ground. Flexible European wood slats sit inside the bed frame and…