White Lacquer Bedroom
SHOWING
1 - 12
OF 12 PRODUCTS
SORT LIST BY

The generously proportioned Blake four-drawer dresser with sleek handgrips matches any modern bedroom decor. Italian Danco-brand soft-closing hardware enables smooth and effortless drawer movement. Interior of drawers elegantly lined in light beige linenboard. The interior partitions keep your…

…this Corbusier Nightstand is the perfect addition to a bedroom. Its smooth top is perfect for lamps and other bedroom essentials, plus large drawers with easy pull feature. It comes with a stable base making it easier to move from one place to another. Easy to clean with its sleek lacquer finish.

…is perfect for reading in bed before you sleep. Pair it with one of our matching white leatherette nightstands or for something a little different pick the contrasting Malibu Mirrored Accent Table or the white lacquer Abesti collection shown. Mattress sold separately. Includes pre-assembled folding…

The Verona Dresser offers ample storage with its six individual drawers in a variety of finishes to give it an elegant vibe. It features polished steel handles and Italian Danco-brand soft-closing hardware. Perfect for any modern bedroom or spacious closet. Matching nightstands and beds available.


…dimension to any bedroom. This modern nightstand features a spacious drawer and upper shelf. Italian Danco-brand soft-closing hardware enables smooth and effortless drawer movement. Drawer Interiors are elegantly lined in light beige linenboard. Available in wenge, walnut, or white lacquer finishes.…

…teal blue lacquer finish for a creative complement to your boudoir decor. Polished stainless steel frame. Soft-closing hardware enables smooth and effortless drawer movement. Interior of drawers elegantly lined in light beige linenboard. Light assembly required. Please note the white is no longer…

The Vortice Accent Table proves that contemporary bedroom furnishings can be both sleek and cutting-edge. Crafted from a mix of black and white high gloss lacquer with matte black angled steel legs, this nightstand features a raised molded geometric pattern on its' two drawer fronts. You can easily…
The Abesti Accent Table proves that contemporary bedroom furnishings can be both clean and cutting-edge. Crafted from white high gloss lacquer with chrome angled legs, this nightstand features a raised molded geometric pattern on its' two drawer fronts. You can easily store your bedside essentials…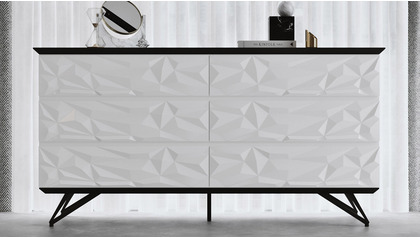 Sleek elegance and modern style come together in the high gloss black and white lacquer Vortice Accent Chest. This contemporary dresser features an undulating three-dimensional geometric pattern on its six spacious drawers. The design is finished with a beveled edge on the top and flared matte black…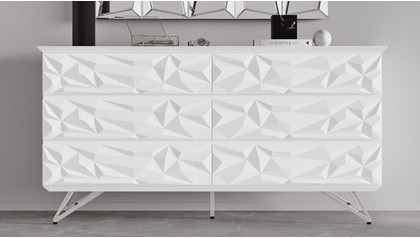 Sleek elegance and modern style come together in the high gloss white lacquer Abesti Accent Chest. This contemporary dresser features an undulating three-dimensional geometric pattern on its six spacious drawers. The design is finished with a beveled edge on the top and flared chrome legs at the…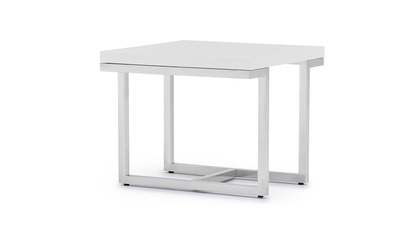 …contribute to its quintessentially modern feel. It features a thick, glossy lacquered top in black or white with a polished stainless steel base. Use the Straz End table as an accent table piece in your living room or bedroom by itself or pair it with the matching coffee table for a truly sleek…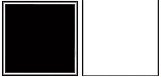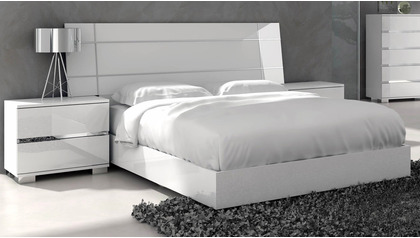 …high and wide headboard coated in high gloss white lacquer with metal trim (resin with anti-rust chrome foil) in grid shape. This stylish bed boasts of a modern Italian design coupled with a zen-like simplicity for a chic upgrade to your bedroom. Night stands sold separately. Ships ready for…