White Leather Dining Rooms
SHOWING
1 - 11
OF 11 PRODUCTS
SORT LIST BY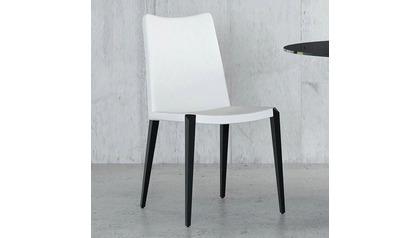 Looking to step up your dining room design game? Look no further than our Jordan Dining Chair. The Jordan features a simple silhouette with a lightly padded seat upholstered in white leatherette with a subtle rounded backrest for superior lumbar support. The angular legs are a matte black…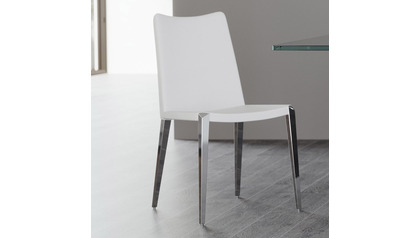 Looking to step up your dining room design game? Look no further than our Jordan Dining Chair. The Jordan features a simple silhouette with a lightly padded seat upholstered in white leatherette with a subtle rounded backrest for superior lumbar support. The angular legs are a shiny polished…
Looking to step up your dining room design game? Look no further than our Jordan Dining Chair. The Jordan features a simple silhouette with a lightly padded seat upholstered in white leatherette with a subtle rounded backrest for superior lumbar support. The angular legs are a sturdy brushed…
…tufting and a gently curving backrest for great lumbar support. The polished stainless steel legs are simple and sturdy while remaining thoroughly contemporary. With a slim and space-saving profile, the Tryton Dining Chair is a smart complement to any transitional or minimalist dining room.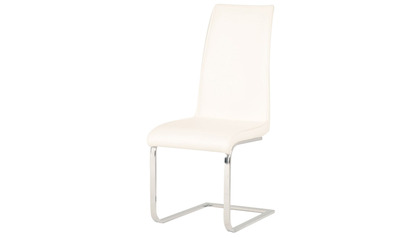 Create an inviting atmosphere in your dining room when you complete it with the Paros Dining Chair. Its rectangular backrest that is tapered at the top allows you to sit back and relax after a good meal, while the padded seat is soft enough so eating in comfort becomes a reality. The U-shaped chrome…

…complicated, which is why the Julieta Dining Chair (Set of 2) is perfect for the modern dining room or restaurant. It features a straight and high backrest, plush seat, and angled sleek base. Make your family and guests feel comfortable as you dine together while seated on the Julieta Dining Chair.
…Chair is the perfect candidate. It features an angled backrest with seamed panels and a handy slot on top so you can move the chair easily from one room to another. The back and seat are upholstered in premium foam and soft leatherette, while the base is made of quality brushed stainless steel.…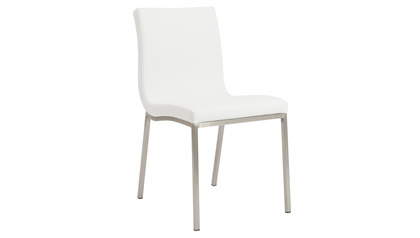 …of the Rachel Dining Chair (Set of 2) will lend a subtle elegance to your dining room. The durable backrest and seat are padded with premium foam and covered with supple leatherette, while set on top of brushed stainless steel legs. Perfect for pairing with a tempered glass dining table or a simple…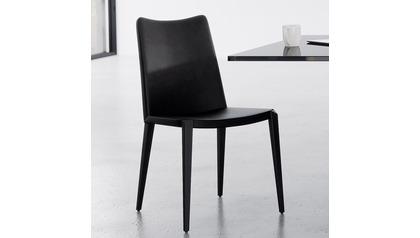 Looking to step up your dining room design game? Look no further than our Jordan Dining Chair. The Jordan features a simple silhouette with a lightly padded seat upholstered in black leatherette with a subtle rounded backrest for superior lumbar support. The angular legs are a matte black…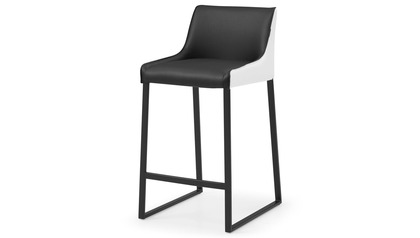 The Helena Counter Stool lends dark sophistication to your dining room or kitchen counter area. Featuring a combination of black and white leatherette, this counter stool evokes simplicity, functionality, and comfort. Black powder coated legs make this counter stool look longer, while a sturdy…
The Ruth Bench is a unique revolutionary design that is sure to shake up any dull room. This sleek and long piece features a classic button-tufted faux leather cushion with a surprisingly modern X-shaped base. Choose the perfect color combo for your space with either a brushed stainless steel or…