White Marble Dining Table
SHOWING
1 - 15
OF 15 PRODUCTS
SORT LIST BY
The Avenza Dining Table allows you to create the perfect dining room. Its classic rectangular marble tabletop with grey veins is the epitome of elegance. The top is supported by a thick brushed stainless steel base with central cross member for extra stability and a modern flair. Comfortably…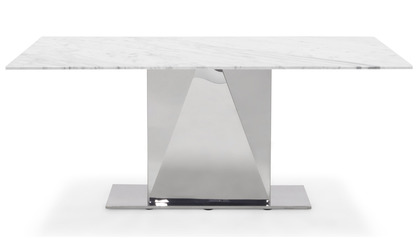 …Modern Dining Table has a beautiful marble top set upon a durable metal base. Our contemporary Table collection will surely be the topic of discussion at your next dinner party. Table top is made from naturally harvested marble and may show slight variations in color. Includes free white glove…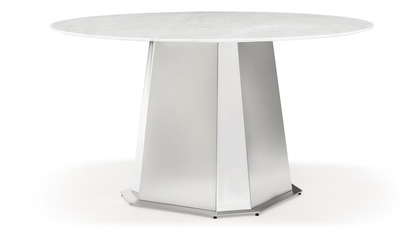 Each 54" hand selected piece of marble picked exclusively for our Riesling Dining Tables are as uniquely elegant as they are incredibly durable. In addition to this, the high gloss, stainless steel, beveled base supports the Riesling, making this a model of both intimate class and modern design .…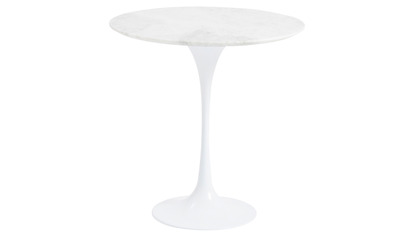 A close cousin to the Cecily Dining Table, the top of the side table is 20" in diameter. Same marble or matte white top and delicate molded support. This one is more suited for cocktails and casual settings, and yet it brings the complete ultra modern look along with it.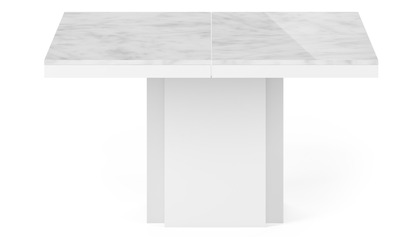 …51-inch Dining Table in Marble provides whenever you have dinner with the family. The large square tabletop is decorated with recessed grids on its marble surface. It has a single pedestal base that allow ample space for your legs as you enjoy a meal. The Calliope Marble collection comes in white…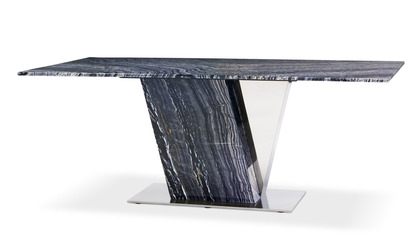 …and white marble table top, to bring you the Malbec Dining Table. This sleek, rectangular table is not only beautiful to look at, but functional as well, with seating for up to 8 guests. Table top is made from naturally harvested marble and may show slight variations in color. Includes free white…
The Grigio contemporary dining table adds a unique style to any modern dining space with its lustrous polished stainless Steel hourglass base and classic marble table top. The thick grey and white striped marble top is coated with an epoxy sealant that prevents staining and makes for easy cleaning.…
…to your dining room. This Contemporary Dining Table proves that form and functionality can co-exist in harmony. The table top is made from naturally harvested marble and may show slight variations in color. The Nero collection also includes a matching console table, coffee table an end table. Great…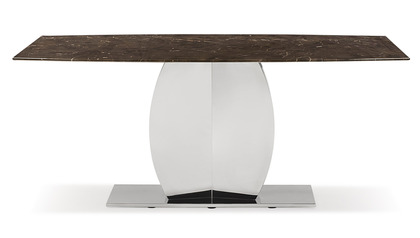 The ultimate in high class dining, the Syrah Dining Table is a genuine piece of sophisticated perfection. Beautiful natural marble elements combine with and sharply contrast the outstanding chrome base in a veritable symphony of modern style. Durable and one of a kind, Syrah measures 71" x 39" and…
…bright white leatherette upholstery, our Mesa Dining Chair will have all of your dinner guests speechless. So dramatically curvaceous and stunning from the sturdy polished stainless steel base to the comfortable high back. Pair your mesa chairs with a sleek marble or glass top dining table with a…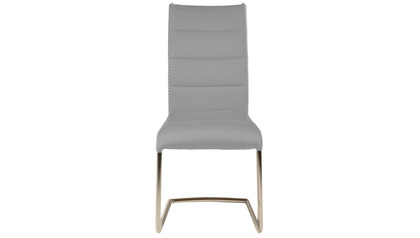 …and elegance with the addition of the Pallia Dining Chair. It has a high and slim back with stitch accent, plus soft seat upholstered in premium materials. The L-shaped legs are coated in chrome and adds stability to a symmetric chair. Pair this chair with bright white marble table or glass top one.
…Dining Chair is the ultimate in elegance and sophistication, boasting a unique rounded high back, monochromatic stitching,sleek black leatherette detailing extending down to the legs. Table top is made from naturally harvested marble and may show slight variations in color. Includes free white glove…
…sophisticated Boston Dining Chair. Its formal vertical seat back is designed for comfort and visual appeal. The Boston is beautifully finished with high quality white leatherette for easy cleaning and unique stainless steel base. Table top is made from naturally harvested marble and may show slight…
The contemporary Grigio Dining Table adds a unique style to any modern dining space with its lustrous polished stainless steel hourglass base and classic marble table top. The thick grey and white striped marble top is coated with an epoxy sealant that prevents staining and makes for easy cleaning.…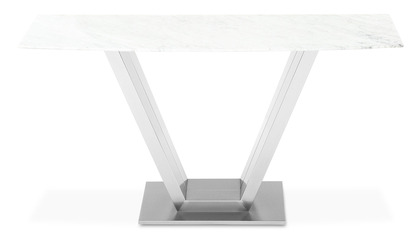 …Console Table. What sets it apart is the smooth carrara marble top set on a gleaming V-shaped stainless steel base. This movable table is perfect for showing off a bouquet of flowers, a small sculpture or an additional piece to a dining room. Table top is made from naturally harvested marble and may…