White Media
SHOWING
1 - 15
OF 15 PRODUCTS
SORT LIST BY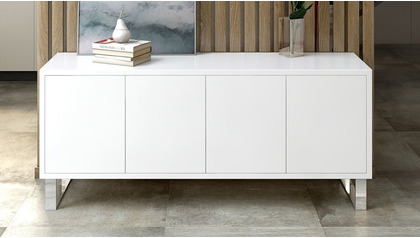 …for a contemporary living or dining area. The simple design works great as a buffet, large entryway table or even a media cabinet. It features clean solid lines in a high gloss white lacquer finish with polished stainless steel legs. Inside the four simple push to open doors you'll find two clear…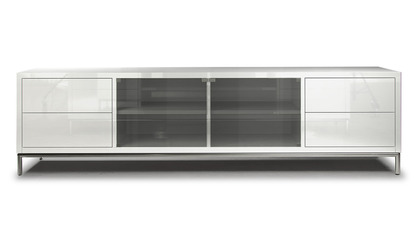 The 83-inch Robb Media Cabinet combines modern edge with retro flare; featuring slate tinted IR-friendly glass doors for easy access to all your A/V components. Includes four standard push-open drawers each measuring 19W x 14D x 5H. Center compartment splits into four equal sized compartments…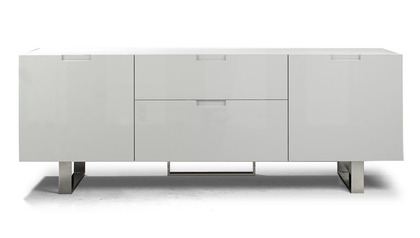 The Wyatt Media Cabinet, with its ultra clean lines, spans just over 5' long - a perfect fit for small spaces. Supported on two polished steel legs, the cabinet contains two center drawers that measure W22" x D15", and two side cabinets (W17" x D16" x H14") - ample room for storage. Each side…
Create a wall unit to fit any size wall. The Ramsay Media Console offers a new creative perspective where the boundaries of materials, colors, and innovation merge. The Ramsay combines a wood base with a lacquered mezzanine supported by a stainless steel leg. Lengthen (up to 130") or shorten (down…
…appealing gadgets and paperwork. Showoff your faux leather bound books or store away the ugly paper weight your boss gave you. The easy sliding cabinet doors can be your best ally in maintaining an orderly office. The finish is a simple matte white lacquer that coordinates with just about any decor.
…applaud. Use it as a credenza, a buffet or even a storage cabinet. In any capacity, the Art Cabinet will never fail to impress. The rich, high gloss white lacquer finish exudes simple sophistication while the transparent acrylic heavy duty legs set this piece off in a class all by itself. Four large…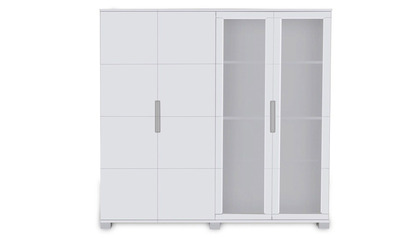 …shelves on either side. The dual sides are great for displaying books and keepsakes on one side while hiding extra paperwork or supplies behind the other. The finish is a smooth matte white lacquer with silver painted wood feet that coordinate perfectly with the Ford collection in white too.
Exquisitely contemporary, the McIntosh TV Stand is a paragon of geometric styling and smart hidden storage. It features a high-gloss white lacquer finish on the top contrasted with a black high gloss base. The low profile is long and offers spacious storage above as well as middle shelving with dual…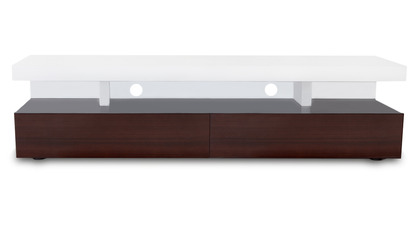 Exquisitely contemporary, the McIntosh TV Stand is a paragon of geometric styling and smart hidden storage. It features a high-gloss white lacquer finish on the top contrasted with an ebony high gloss base. The low profile is long and offers spacious storage above as well as middle shelving with…
…wonder with its angled yet undulating shelves supported by double chrome steel on each shelf. The shelves are made from resilient hardwood with white lacquer finish and feature a completely open style. The Parca Bookshelf can also serve as a partition between the living room and another part of…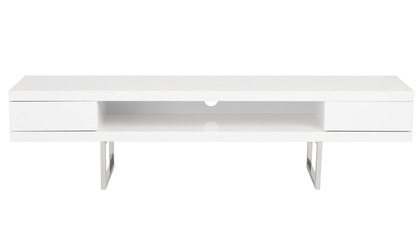 …this Martin TV Stand. This rectangular storage solution has got your back when it comes to keeping your home tidy with its spacious top, compact media slot at the middle with round cable pass-through, and double drawers. With double drawers at the sides where you can store your remote controls and…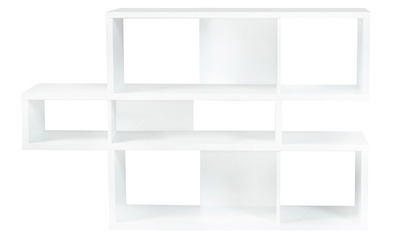 The Ziva Shelving Unit is a modular bookshelf presented in a charismatic, yet truly functional way that can be set against a wall or used as a chic room divider. With multiple color options available, you can create a shelf completely in one finish or contrast the finishes so that the backs and…
The Ziva Shelving Unit is a modular bookshelf presented in a charismatic, yet truly functional way that can be set against a wall or used as a room divider. With multiple color options available to you can create a shelf completely in one finish or contrast the finishes so that the backs and…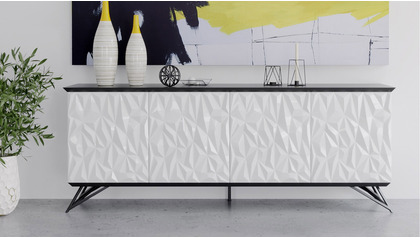 The two-toned Vortice sideboard table stands out with a compelling design and impeccable construction. The white high gloss lacquer middle features a stunning geometric multi-dimensional pattern. This is sandwiched between a black lacquer beveled top and matte black angled steel legs at the base.…
The two-toned Vortice TV Stand features a compelling design and impeccable construction. The white high gloss lacquer middle features a stunning geometric multi-dimensional pattern. This is sandwiched between a black lacquer beveled top and black angled steel legs at the base. The two simple push to…