Wood Dining
SHOWING
1 - 15
OF 15 PRODUCTS
SORT LIST BY
…yet sturdy polished stainless steel base that resembles a tree trunk. Pair it with coordinating modern dining chairs and a sleek white buffet for a simple, clean dining room. Let the Arbre Dining table take root in your home and grow into an attractive and modern focal point for family gatherings.
Use the Roman Dining Table as a stunning focal point to your dining area. Create a beautiful tablescape on its long rectangular top supported by V-shaped high gloss stainless steel legs. The base is coated in dark brown and wide enough to stabilize this chic and modern table. Truly a minimalist…
…brown leatherette upholstery, our Mesa Dining Chair will have all of your dinner guests speechless. So dramatically curvaceous and stunning from the sturdy chrome iron base to the comfortable high back. Pair your mesa chairs with a classic wood or glass dining table with a shiny polished stainless…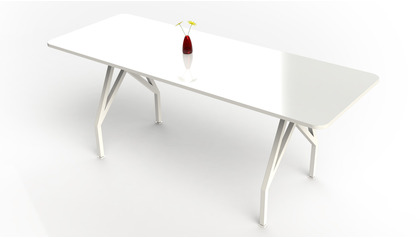 The Hot Spot Bar Height Conference Table accommodates any professional environment while offering a more relaxed conversational space. Great for open plan offices, breakrooms and even reception areas. This American-made marvel features a durable thermo-fused laminate work surface with a tough 2mm…
…sleek, minimalistic storage or serving space in a contemporary custom rich black oak wood grain finish and shiny chrome geometric front panel embellishment. The clean lines and quality construction give the Norah an elegance and style to accentuate your finely designed modern dining or living space.
…framed in wood. Inside there are height adjustable shelves on either side. The dual sides are great for displaying books and keepsakes on one side while hiding extra paperwork or supplies behind the other. The finish is a smooth dark stained American walnut wood veneer with silver painted wood feet…
…veneer wood grain found throughout the rest of the buffet and the short stainless steel feet on the bottom. Behind the four push to open doors is a spacious expanse with multiple adjustable height shelves and two holes for wire management to suit your storage needs. Be it in your dining room, living…
…With its asymmetrical design and sleek color-blocking, this buffet cabinet is both a statement piece and a practical storage solution with multiple shelves. Whether you place it in your living room as a media cabinet or in your dining room as a sideboard, it's sure to be a conversation starter.
Simple and sophisticated, the Motley Buffet is the epitome of contemporary design. With eye-catching dimensional front panels complemented by polished stainless steel legs, this buffet cabinet makes storage convenient and classy. Behind the four doors, you'll find multiple shelves and a surprise…
…in wood. Inside there are height adjustable shelves on either side. The dual sides are great for displaying books and keepsakes on one side while hiding extra paperwork or supplies behind the other. The finish is a black stained open grain American oak wood veneer with silver painted wood feet…
…piece, look no further than the Antonin Bench. In your choice of black or gray leatherette with a tufted cushion top and matching legs. The sturdy wood and steel frame is ready to uphold any design challenge you might face. Whether you need a modest bench for the end of your bed, a place to put on…

…doors framed in wood. Inside there are height adjustable shelves on either side. The dual sides are great for displaying books and keepsakes on one side while hiding extra paperwork or supplies behind the other. The finish is a smooth matte white lacquer with silver painted wood feet that coordinate…
The Vinson Buffet introduces a compelling design taking a unique approach to traditional buffets. The striking wave-like design and simplicity of this sideboard will bring peace and prosperity to any room it resides in. Encompassing both a beautiful design and well-appointed functionality, this…
Sleek elegance and modern style come together in the high gloss white lacquer Abesti Accent Chest. This contemporary storage piece features an undulating three-dimensional geometric pattern on its six spacious drawers. The design is finished with a beveled edge on the top and flared chrome legs at…
Sleek elegance and modern style come together in the high gloss black and white lacquer Vortice Accent Chest. This contemporary storage piece features an undulating three-dimensional geometric pattern on its six spacious drawers. The design is finished with a beveled edge on the top and flared matte…